XSEED Games has just announced that No More Heroes 3 is coming to the Xbox, PS5 and PC family. That's right, Travis Touchdown, gaming's most famous assassin otaku, has been forced out of retirement to defend not just Santa Destroy but Earth itself! Its release is scheduled for spring.
Following its launch on Nintendo Switch last year, No More Heroes III is officially coming to the PlayStation 4, PlayStation 5, Xbox One, Xbox Series X, Xbox Series S, and PC via Steam later this year, publisher XSEED Games announced today. The title is specifically set for a Fall 2022 launch window and will include improved visuals and framerates, and faster loading times. No additional in-game content was announced, but there will be physical versions for all but the PC available.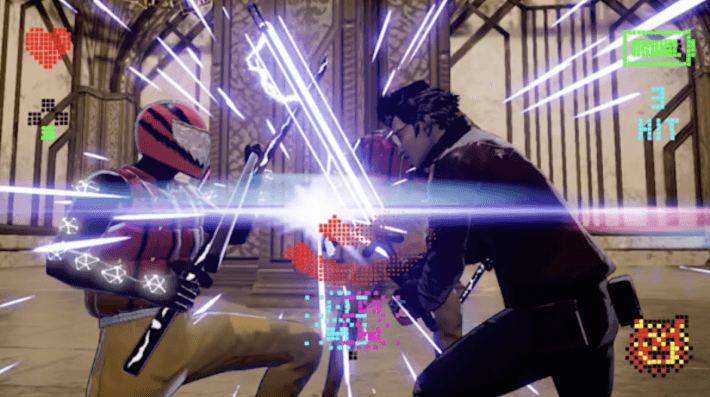 More specifically, XSEED Games announced that the physical No More Heroes III Day 1 Edition for Xbox One, Xbox Series X|S, PS5, and PS4 would include a copy of the game for the specific platform as well as a softcover art book, soundtrack CD, and a commemorative Santa Destroy commemorative biker license plate within a custom box featuring a new illustration by artist Yusuke Kozaki. 
Last year, Suda 51's long-awaited No More Heroes 3 was finally released, a decade after the last numbered entry in the series, No More Heroes 2: Desperate Struggle. It was one of the biggest titles for the Nintendo Switch in August, which has been a long time coming for fans of the series. No More Heroes 3 also acts as the conclusion to Travis Touchdown's journey of bloodshed, with Suda himself saying that it is the end of the series.
In No More Heroes 3, players can find a stylish and action-filled time filled with blood, gore, graphic violence, plenty of swearing, and more adult themes. This sees Travis taking on the Galactic Super Hero Rankings, which consist of bizarre alien bosses that the player will come to blows with. Since its announcement, this hack-and-slash game has exclusively been on the Switch, but the game will be coming to rival platforms later this year.
This announcement also comes with new boxed versions of No More Heroes 3 for each console, each providing some special bonuses for fans. This includes an art book that will contain concept art and other parts of the game's development and a select amount of tracks from the game's soundtrack on a CD. The final bonus includes a custom, albeit cosmetic only, license plate based on the game, with it being from the in-game town of Santa Destroy, with it reading "MOE~" as its number.
No More Heroes 3 will also be arriving on PC, with the same release window of Fall 2022. Since the first two No More Heroes games got PC and Switch ports last year, players can now own the entire No More Heroes series on both Switch and Steam. With No More Heroes 3 coming to current PlayStation and Xbox consoles, hopefully, the first two games can be ported sometime to complete the trilogy.
Should someone get that $59.99 version, they'll get some additional merchandise with a game copy. There will be a CD with some songs from the game. (Note that this isn't a full soundtrack.) People also get a 70-page art book and a small Santa Destroy license plate with "Moe~."
No More Heroes 3 will come to the PS4, PS5, Xbox One, Xbox Series X, and PC in Fall 2022. The PC version will be available via Steam and Microsoft Windows Store. It is immediately available on the Nintendo Switch.