On October 24, New World Entertainment distributed Insurgency Sandstorm update 1.18 across all platforms. Along with this update came the free content drop for Operation Onslaught (dev version 1.15). Get ready for new weaponry, new premium cosmetics, and more content coming soon! We've got plenty to share with you today, including information about the latest weapons, gear, and a brand-new game mode.
New Weapons
Two brand-new grenade weapons have been added to Operation: Onslaught. The M320 launcher is for Security and the M79 launcher is for Insurgents. Both will be used to destroy your enemies. Both come with six shots of 40x46mm explosive shells, which are more than enough to stop any attack.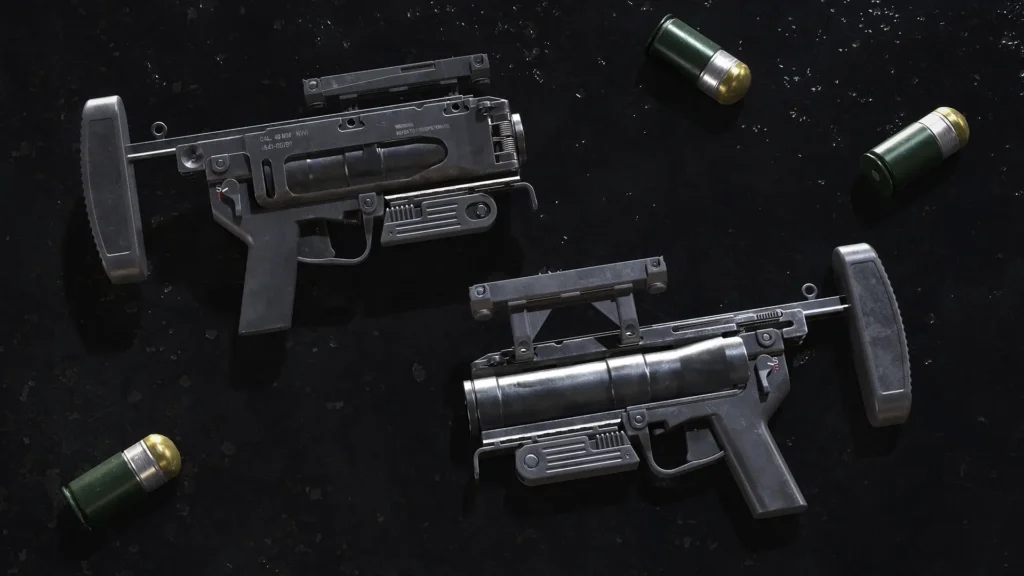 The Onslaught Set Bundle: New DLC
With the Onslaught Set Bundle of expensive gear items and weapon skins, you can do more damage than ever on the battlefield and beat your enemies like never before.
Here is the DLC that comes with the Onslaught Set Bundle:
Mountain Tactical Set
Embark on a thrilling battle with the Mountain Tactical Gear Set for Security! Gear up
and conquer any rugged terrain that stands in your way.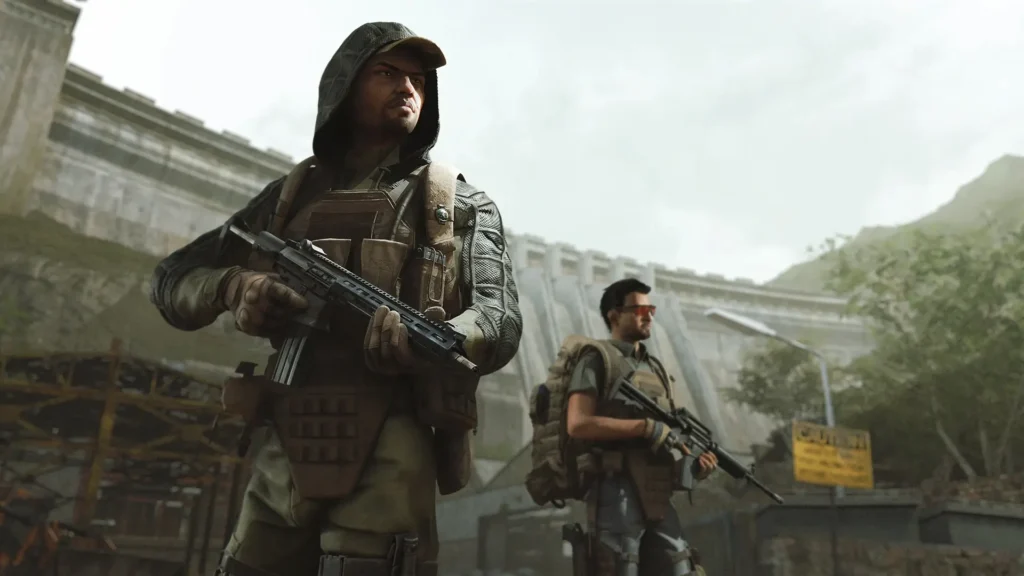 Contains five different cosmetic gear pieces:
Mountain Tactical Hat
Mountain Tactical Top
Mountain Tactical Bottom
Mountain Tactical Gloves
Mountain Tactical Boots
Digital Splatter Weapon Skin Set
With the Digital Splatter Weapon Skin Set, you can find the right cover on a battlefield full of chaos, and you can add your own style to the battlefields.
In the Loadout menu, you can put on the Digital Splatter Weapon skins for the If they are present, the security group for the following weapons:
Rifleman: G36K
Breacher: MP5A5
Demolitions: M320
Gunner: Galil SAR
Secondary: L106
Marksman: M82
Mountain Nomad Set
Combine the rugged resilience of nomadic attire and the tactical prowess of combat
gear with the Mountain Nomad Gear Set for Insurgents.
Contains five different cosmetic gear pieces:
Mountain Nomad Hat
Mountain Nomad Top
Mountain Nomad Bottom
Mountain Nomad Gloves
Mountain Nomad Boots
Woodburn Weapon Skin Set
Bring a touch of timeless elegance to your arsenal and embrace the charm of classic
wood weapons with the Woodburn Weapon Skin Set.
The Woodburn Weapon skins can be equipped in the Loadout menu for the
Insurgent faction for the following weapons where available: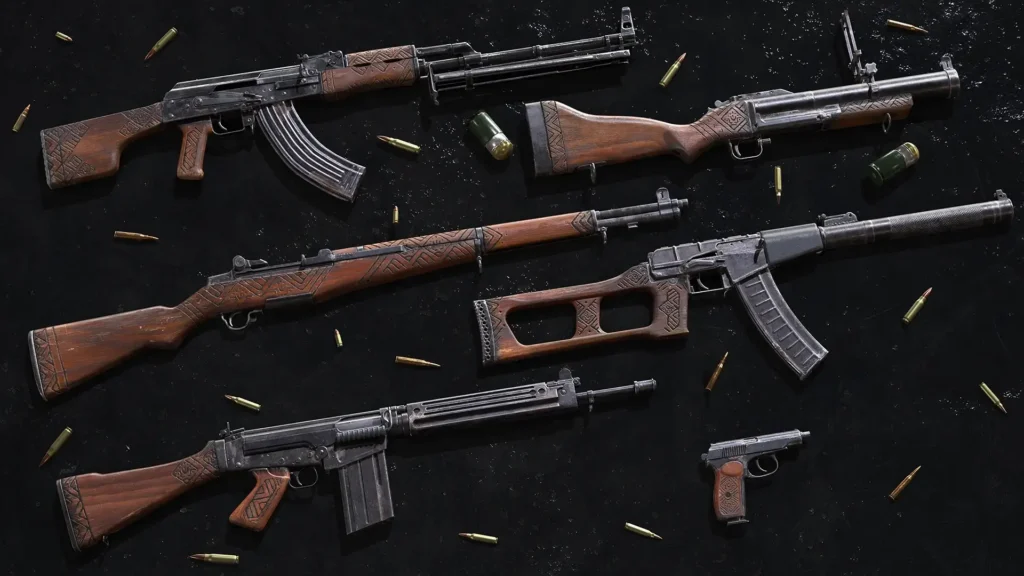 Gunner: RPK
Demolitions: M79
Breacher: AS VAL
Marksman: M1 Garand
Secondary: Makarov
Rifleman: AK-74
Cosmetic Patch System
We're thrilled to announce our brand-new cosmetic patch system, which gives players a whole new way to make their soldiers look unique! There are over 70 choices to choose from when this feature first comes out, so you can really make your character your own. There are a lot of patches for both the Insurgents and the Security to make them stand out in battle. There's a patch for everything, whether you want to draw attention to a class, an anti-authority phrase, a certain operation, or something else.
At start, you can get the following patches, which you can buy with in-game currency:
Security Patches:
Day of Infamy
Britain
Britain khaki
Canada
Canada khaki
France
France khaki
Germany
Germany khaki
Turkey
Turkey khaki
Ukraine
Ukraine khaki
USA
USA khaki
Insurgency 1
Insurgency 2
Nightfall 1.7
Breakaway 1.8
Cold blood 1.9
Exodus 1.10
Warlord 1.11
Glasshouse 1.12
Livewire 1.13
Accolade 1.14
Onslaught 1.15
Airforce
Elite
Medic
Military division
Special forces
S.W.A.T.
Advisor
Breacher
Commander
Demolitions
New Game Mode: Free For All
Are you always at the top of the list? Do you think you're better than everyone else on the server? It's time to see how good you are at our newest game mode, "Free For All." Back yourself up and play against everyone else in the lobby in the final test of your skills. Do well or die trying.
About the game mode:
Kill bad guys to get points. At the end of each round, the winner is the man with the most points.
The player is given a "solo" group instead of the Security or Insurgents.
Respawns happen one at a time for each player soon after they die.
No one is allowed to watch.
Available classes are:
Assault
Breacher
Advisor
Gunner
Marksman
New Layouts
Operation: Onslaught adds 14 brand-new layouts to five game modes: Defusal, Free For All, Frontline, and Team Deathmatch, which is only available for a limited time.
Resolved Issues in Insurgency Sandstorm Update 1.18
Changes to the gameplay
Molotovs and incendiaries would no longer fail to destroy stores.
Fixed a bug where NPCs would "T-pose" after they died.
Fixed a bug that let the spent grenade model show up on the "M1 Garand" when the firing mode was changed to standard.
Fixed a bug that made the Molotov rag look like it wasn't burning.
Fixed a bug that made it so the player would hold the wrong weapon when moving sides in Firefight.
Fixed a bug that could cause muzzle flashes to not show up properly when switching between primary and secondary weapons.
Fixed a bug where the MR73 backup weapon wouldn't show up right in Hardcore Checkpoint Insurgents' menus.
Fixed a bug that let the player throw a bomb while moving and lying down.
Fixed a bug that caused NVG to float in the air after a player died.
The gas mask would get stuck in the player's hand in third person if they kept pressing the "unequip" button. This has been fixed.
Fixed a bug that made dismemberment not work right on bots in local play.
There was a bug that let the player die when they chose their own team in a versus mode.
We fixed a bug that caused the game to crash at the last Checkpoint Insurgents on Last Light in local play.
Fixed a bug that caused cars to take damage only after being used.
LEVEL DESIGN IMPROVEMENTS & FIXES
Fixed an issue where a door model on Precinct would fall through the world when breached
Fixed an issue on Outskirts where a playable area showed as an out-of-bounds area
Fixed several issues with lighting inside building on Outskirts
MISCELLANEOUS
Fixed an issue where a player mic could transmit audio without holding the "push to talk" button
Fixed an issue where cross-platform players could not report each other
FAL damage values returned to pre-1.14 levels
Fixed an issue where the wire cutters displayed incorrectly in third person while defusing the bomb in Defusal mode
Thanks for visiting BGN. Dive deeper into the gaming world with our latest articles, reviews, and exclusive content. Explore now at BGN and unlock a world of gaming excitement!"