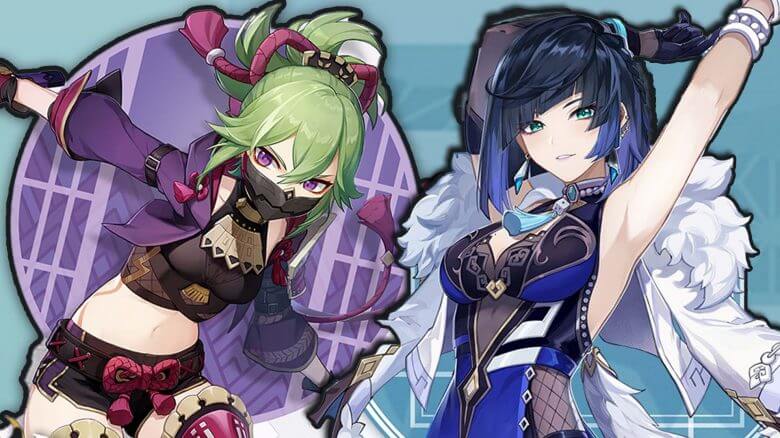 GENSHIN IMPACT ANNOUNCES 2 NEW CHARACTERS Yelan and Kuki Shinobu
Genshin Impact introduced new characters: the hydro character Yelan and the electro ninja Kuki Shinobu. You can find out what is already known about them and what role they could play in the game here. Before the release of patch 2.6, Genshin Impact 2 introduced new characters.
Not much is known officially and currently about how the two characters play. However, while we already know quite a bit about their role in the story in Genshin Impact, there are some clues as to their potential playstyles. We tell you everything about the two women and tell you what the community is speculating about.
Genshin Impact: Yelan and Kuki Shinobu – We already know that
What is known about the new characters? Little has been officially saying about Yelan and Kuki. However, you can derive a few more things from the pictures:
Yelan becomes a Hydro character.

She is from Liyue and "claims to work for the General Affairs Council." This formulation suggests that this is not the complete truth.
Players suspect she will become a 5-star character. Unconfirmed leaks also indicate this.

Kuki Shinobu is an Electro Character.

She holds a blade in her right hand in the official picture. That could mean she's a swordsman or has an ability that uses some dagger.
She is from Inazuma and is Itto's second-in-command in the Arataki Gang.
Players suspect she will become a 4-star character. But that is not confirmed.
Genshin Impact Kamisato Ayato's release date is upon us. Still, developer HoYoverse won't let Yashiro's commissioner have any fun after announcing via Twitter today that two new Genshin Impact characters, Yelan and Kuki Shinobu, will be making their big debut. Entry. To Tivat.
Known as "a mysterious person who claims to work for the Ministry of Civil Affairs", Yelan seems to come from Liyue. According to her Twitter reveal, "Yelan's identity has always been a mystery," and she has a penchant for finding herself "in various ways at the center of events," always sneaking out before the end of it.
Ironically, those who have kept up with the latest leaks will know quite a bit about Yelan, at least how she will appear in-game. Earlier in the month, what seems to be her character model was shared on Reddit.
Meanwhile, little is known about how Kuki Shinobu, who appears to be an Electro user, would materialize until now. The deputy leader of the Arataki gang is reportedly an expert in the law, which makes her place within the realm of criminals fascinating. From her nickname, "Troubleshooter", Shinobu will operate as a fixer or even a mediator between the Arataki gang and the Tenryu Commission.