Xbox Game Pass is gearing up for a thrilling month ahead, with several exciting titles set to join the service between now and October 3. Fans have already been treated to the early release of "Lies of P," which officially launches on September 19. However, eager players got a head start on the 18th, thanks to a surprise early access release on Xbox Game Pass by Neowiz and Microsoft.
But the excitement doesn't stop there. September sees another wave of new arrivals to Xbox Game Pass, starting with the highly anticipated launch of "Lies of P." Additionally, fans can look forward to diving into the world of multiplayer heists with "Payday 3," exploring the enigmatic indie game "Cocoon," and experiencing the multiplayer DC action in "Gotham Knights," making its debut on the service.
Here's a glimpse of what's in store for Xbox Game Pass subscribers: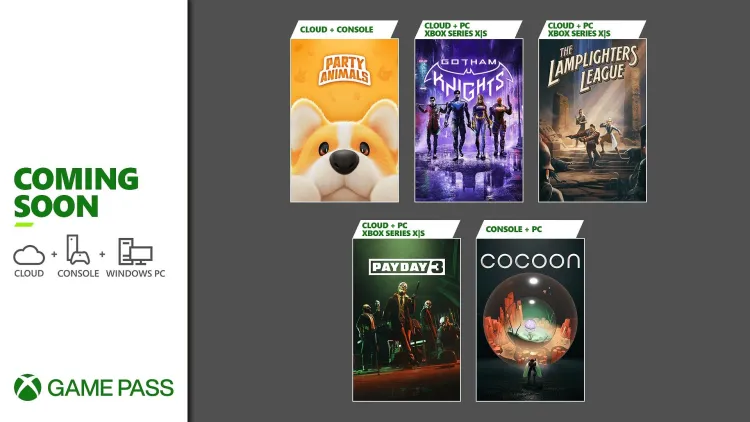 Coming Soon Xbox Game Pass:
Party Animals (Console, Cloud) – Arriving on September 20
Payday 3 (Console, PC, Cloud) – Dropping on September 21
Cocoon (Console, PC) – Set to release on September 29
Gotham Knights (Xbox Series X/S, PC, Cloud) – Coming on October 3
Be sure to check out the full list of titles joining the library and take a look at our reviews for the games that pique your interest.
Saying Goodbye on September 30:
Beacon Pines (Cloud, Console, and PC)
Despot's Game (Cloud, Console, and PC)
Last Call BBS (PC)
Moonscars (Cloud, Console, and PC)
Outriders (Cloud, Console, and PC)
Prodeus (Cloud, Console, and PC)
Excitement is building for Xbox Game Pass subscribers as they eagerly await the arrival of these new titles. With a diverse range of games coming to the service, there's something for every gaming enthusiast to look forward to this month. Stay tuned for more gaming adventures on Xbox Game Pass!
Reference: Xboxgame