THQ Nordic this week revealed a new game called The Valiant, a story-focused, medieval RTS RPG in which we will have different challenges throughout our campaign. THQ Nordic has announced The Valiant; a new RTS set during the 13th century developed by Kite Games. It is, naturally, The Valiant, Medieval Action RTS coming to PC and console on PS4, PS5, Xbox One, and Xbox Series X/S systems. The Valiant focuses on smaller forces, tactical combat, and RPG-style heroes, with traditional strategy mechanics such as base building, pushed to the side. In short: it sounds like Warhammer 40,000: Dawn of War 2 but for historic knights.
In The Valiant , we will take on the role of Theoderich von Akenburg. One of his former brothers-in-arms, Ulrich, has become obsessed with gathering Aaron's rod, an ancient and mysterious relic, and is on a reckless crusade across Europe and the Holy Land to find the missing pieces. If Ulrich succeeds, the world will face dire consequences.
Theoderic has sworn never to take up arms again, but chivalry forces him to embark on the holy quest to stop Ulrich, gathering new loyal companions. THQ Nordic reveals that the game offers several unique challenges for RTS fans, where decisions count on and off the battlefield. The game will take a melee-centric approach. This means that no base-building elements will be featured in The Valiant.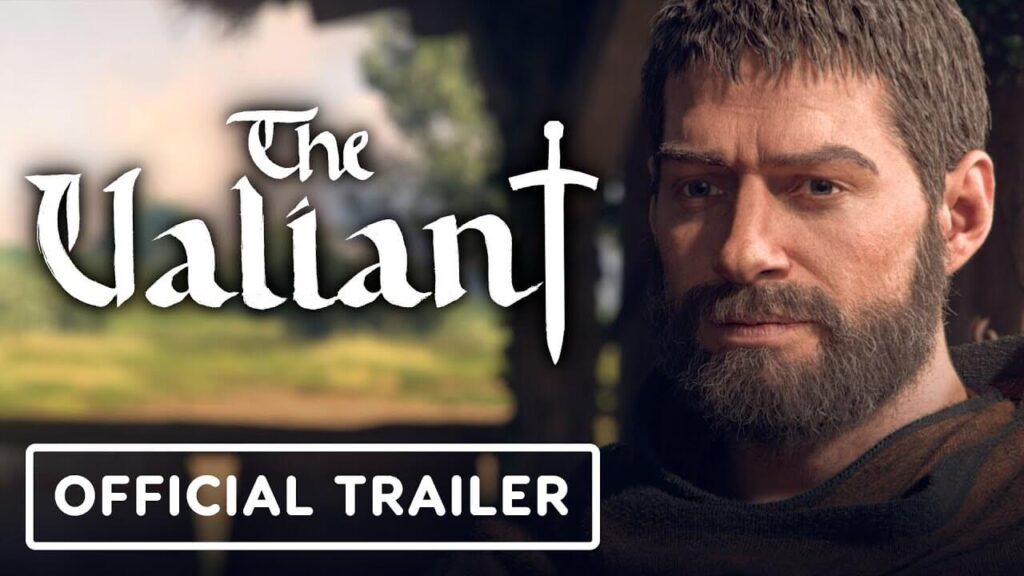 The Valiant will also offer two different multiplayer modes: competitive and cooperative. While the game's campaign is designed as a single-player experience, three friends can enjoy Last Man Standing mode together and hold their ground against waves of enemies, including mini-bosses and bosses.
The Valiant features
The Valiant features a single-player story 'sweeping' campaign of 15 missions that sees protagonist Theoderich take up arms to stop Ulrich, his former brother-in-arms who terrorizes Europe and the Holy Land on a crusade to find the missing pieces of Aaron's wand of ancient ammunition. You will choose the units to take on each mission and assign skills and equipment to the heroes. Then, fast-paced melee-centric battles will provide brutal and bloody battles on the battlefield.
The Valiant – First Screenshots
As for multiplayer, there are both co-operate PvE and PvP options. PvP offers 1v1 and 2v2 scenarios based on control points. Co-op, meanwhile, sees up to three friends attempt to survive in a Last Man Standing mode as waves of enemies, including mini-bosses and bosses, storm your defenses. It sounds like Dawn of War 2's The Last Stand mode as if The Valiant wasn't already looking much like one of the best strategy games of all time.
THE VALIANT, A REAL-TIME STRATEGY WITH ACTION- AND RPG ELEMENTS
Theoderic von Akenburg will be the main character in the game. A former crusader will be forced to re-enter the fray due to past events and actions. He also has to take up arms again, even though he claimed something else. It is essential to make decisions on both the battlefield and off the battlefield when leading a campaign.
Battles will be fought against smaller units. Each hero will have three unique skill trees, multiple weapons and armor and, outside the campaign, two multiplayer modes: competition and cooperation.
"Embark on a journey of fraternity and redemption in The Valiant, a real-time team strategy set in 13th-century Europe and the Middle East. You can command and train your knights in medieval combat. Then, you can play online in competitive multiplayer or co-op. Additional to the initial information, there are two video materials that present the plot, atmosphere, and a small portion of the game. The work on the game is in its final stages.