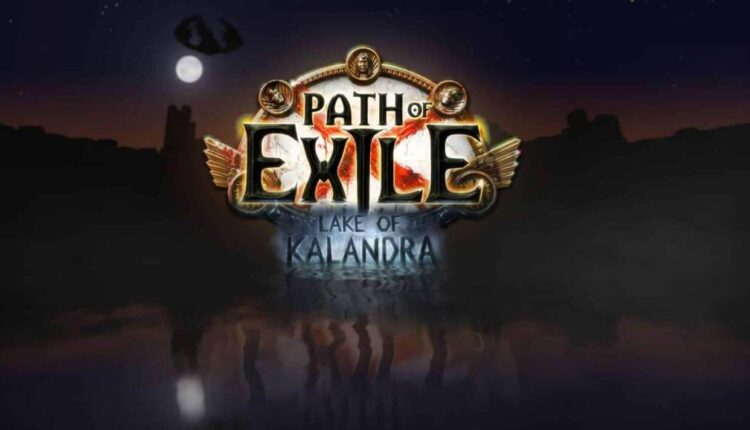 Path of Exile 3.19 Expansion: Opinions on POE Currency in Lake of Kalandra League
Path of Exile 3.19 expansion officially launches on PC and MAC on August 19, 2022, and comes to Xbox and PlayStation on August 24. Now is the time to get ready for the brand new challenge league.
Basic Lake of Kalandra League Mechanics
With the recent systematic introduction of Path of Exile 3.19 expansion by Grinding Gear Games in the live broadcast, we also have a glimpse of the mechanics of Lake of Kalandra League. 3.19 expansion will continue to use the basic league format, including 40 challenges. Players can choose their favorite among the three modes of Standard, Hardcore and Solo Self-Found variations.
In Path of Exile 3.19 expansion, the theme will revolve around Mirror and Lake of Kalandra, players will need to accept various challenges in the plane on the lake.
See a customizable panel on various types of maps in Wraeclast, where players can add different reflections to each grid. Each grid representing a challenge, such as leagues like Delirium, Harbinger and Mechanism. The farther the reflection is from the mouth of the lake, the difficulty and reward greater.
Importance of POE 3.19 Currency in Lake of Kalandra
For Path of Exile players who have experienced many challenging leagues, the importance of POE Currency in each league is self-evident due to Path of Exile's unique economic mechanism. Therefore, players who are interested in Path of Exile 3.19 Lake of Kalandra League need to prepare a lot before or at the beginning of new league, understand the league mechanics and accumulate enough Exalted Orb/Chaos Orb and other items in advance.
It is worth noting that in 3.19 Lake of Kalandra League, GGG added three new skill gems and a new support gem, as well as 14 unique items. It means when we play Lake of Kalandra League, there will be more factors that affect the encounters, and enough POE 3.19 Currency will also become more important.
Opinions on farming POE Lake of Kalandra Currency
As I mentioned above, Path of Exile has a very unique economy system. Different from the fixed currency type of other similar MMORPGs, Path of Exile is more inclined to "barter", so there are many types of POE Currency and different effects, like Mirror of Kalandra, which is related to the theme of Lake of Kalandra league, is a very famous and rare POE Currency and is also the most expensive currency item in Path of Exile.
To obtain Path of Exile 3.19 currency items is naturally inseparable from farming, but the variety of currencies and items makes farming difficult. For most players, while time and effort will always pay off, that payoff will also be limited by probability in new challenge league. So when you desperately need some potent, but scarce POE Currency to drive the process, you can choose to buy POE Currency about 3.19 expansion whatever you want at POE Currency.com. As the best Path of Exile Currency trading market, it's the best place for you.
Where to buy POE Currency for Path of Exile Lake of Kalandra?
If you now have ideas about getting ready for the new league, you can look to POECurrency.com. Because of the following factors, we think POECurrency.com is the most awesome POE 3.19 Currency online store that deserves your attention.
1. Low Price Advantage
Affordable price is a trump card for POECurrency.com to attract consumers. As a Path of Exile nice service provider with many years of experience, the professional team behind POECurrency.com has always been committed to bring players the most cost-effective Path of Exile currency items and services. When you browse the product page of POECurrency.com, you will find that the price of POE Currency such as Exalted Orb/Chaos Orb there is significantly lower than other similar suppliers, no matter which platform you are on (PC/PS/XBOX).
Not only that, POECurrency.com will often prepare special promotions for VIP users of the website. Many players were lucky enough to get discounts or coupons of up to 5%, which allows them to buy cheaper POE 3.19 Currency with the least cost to maximize the strength of their characters and successfully complete the challenges in Lake Of Kalandra league.
2. Instant Worry-Free Delivery
POECurrency.com has a complete transaction and shipping mechanism. When players place an order, the order information will be passed to the staff as soon as possible, and they will immediately start preparing for delivery.
According to the feedback of many POECurrency.com regular customers, the time from placing an order to receiving the bought POE Currency is within 10 minutes each time. It is a very impressive speed, which can effectively help players solve their urgent needs and smoothly advance the game process.
3. Safe Transaction Process
In addition to a complete transaction and delivery mechanism, POECurrency.com also has a mature security system. They not only supports multiple payment methods(Paypal, Credits Card and Pay locally) but is also 100% responsible for the safety of customer's accounts. No player's account has ever been banned for buying POE Currency at POECurrency.com. Any Path of Exile 3.19 Lake of Kalandra currency items for sale are legal.
4. Perfect Online Service
POECurrency.com's great service covers the whole process of the transaction. Whether customers are at the stages of pre-sale, on sale and after sales, they will bring high-quality services. Customers who buy POE 3.19 Currency at POECurrency.com can click "Live Chat" on the webpage for consultation no matter if they encounter any problems. In order to take care of the shopping experience of every player, POECurrency.com remains online 24/7, you can always contact them to get everything you want or to solve something you don't understand.
More importantly, if there is any force majeure reason for the transaction, POECurrency.com supports a full refund and brings customers the most appropriate solution and compensation.
If you have already started planning your 3.19 Lake of Kalandra League, from now on focus on POECurrency.com, they will bring you the most real help and the top quality service!
You can also contact POECurrency.com by any of the following methods now:
Contact Email: [email protected]
Facebook: https://www.facebook.com/poecurrencycom
Twitter: https://twitter.com/Poecurrency_com
Skype: live:.cid.51dff1e253e02ddc
WhatsApp: +852 69399458