In a surprising turn of events, Microsoft is gearing up for a mid-generation update to the Xbox Series X. Leaked information from the FTC v. Microsoft court battle suggests that this refresh will introduce a novel cylindrical design, completely disc-free.
Additionally, the leak reveals the existence of an advanced controller with gyroscopic capabilities, codenamed Sebile. Alongside these developments, there's an updated Xbox Series S in the works, complete with key specifications for these new devices and an anticipated timeline. The revelation of these details, though unintentional, could have significant implications for Microsoft's gaming strategy, given that it discloses its plans well over a year in advance.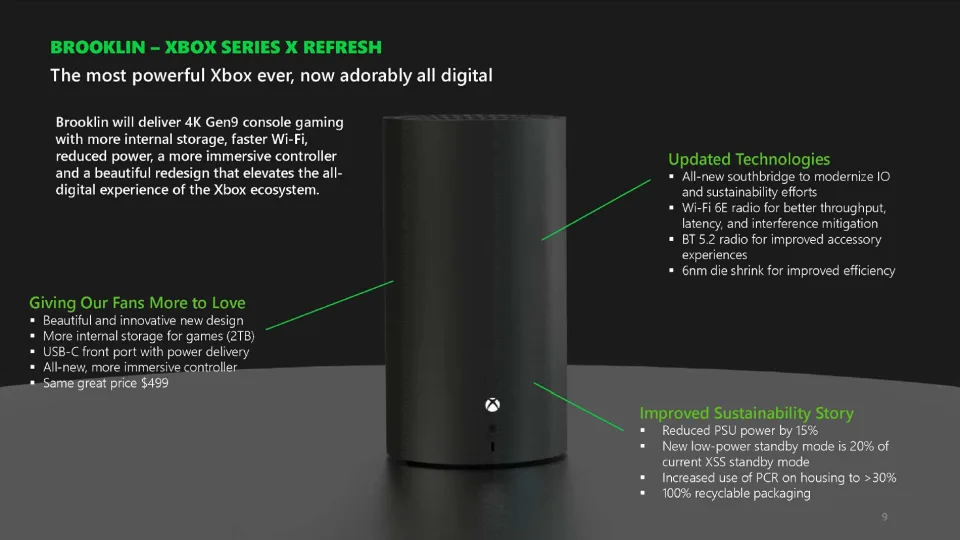 Interestingly, Microsoft had previously stated that they had no intentions of releasing a mid-generation console refresh. However, the leaked document tells a different story. In fact, Microsoft is currently working on three distinct consoles.
The first, known as Ellewood, represents a lighter refresh of the Xbox Series S, slated for release around September 2024. "Brooklin," tentatively scheduled for approximately November 2024, will mark the arrival of a new disc-less version of the Xbox Series X. There's also another model, XDL, which matches Brooklin's specs but will likely offer Xbox Design Lab customization options.
One of the most intriguing developments is the "Sebile" controller from Microsoft. This two-tone controller features a built-in accelerometer and haptic feedback that doubles as speakers, making it somewhat reminiscent of Sony's latest DualSense controller. It also boasts new modular thumbsticks, quieter buttons, and thumbsticks, and introduces new app features. Notably, it incorporates sustainability-focused enhancements such as a swappable battery.
The use of recycled materials, and improved reparability. Once it's available, gamers can expect to see games with support for the gyro feature, allowing for in-game maneuvering simply by moving the controller. Microsoft will also offer an XDL version of Sebile, codenamed Igraine.
What are the key highlights of Microsoft's mid-generation refresh for the Xbox Series X?
Microsoft's mid-generation refresh for the Xbox Series X includes an all-digital, cylindrical design for the console, the introduction of a new gyroscopic controller codenamed Sebile, and updates to the Xbox Series S. It also incorporates sustainability features and enhanced specifications.
Why is the leaked information regarding Microsoft's gaming plans significant?
The leaked information is significant because it reveals Microsoft's gaming strategy well in advance, contradicting their previous statement of not planning a mid-gen console refresh. It discloses details about upcoming consoles, features, and a timeline, that could impact the gaming industry.
What are the three new consoles mentioned in the article, and what are their codenames?
The three upcoming consoles. The first is Ellewood, representing a light refresh of the Xbox Series S. The second is Brooklin, a new disc-less version of the Xbox Series X. The third is XDL, which matches Brooklin's specs and may offer customization through Xbox Design Lab.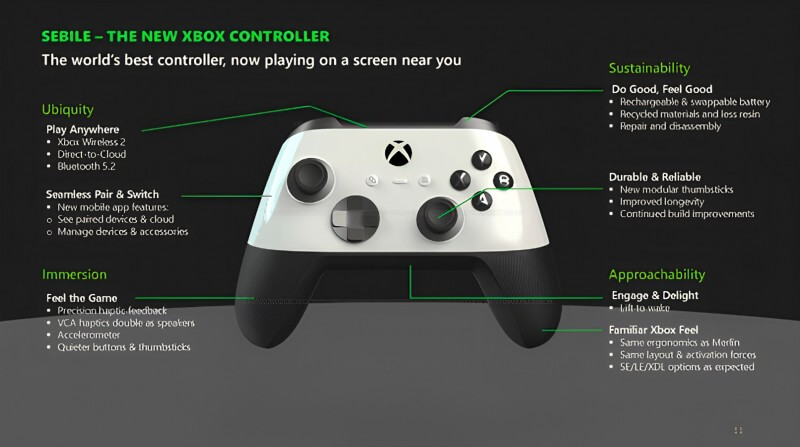 The leaked document contains a wealth of information, including details that Microsoft likely intended to keep confidential, such as projected sales volumes, profit margins, funding allocations, and more. For instance, Microsoft acknowledges that the full product vision for Sebile is currently pending approval due to concerns about gross margin percentages, shifting the decision to the "Finance" department.
The document also outlines Microsoft's vision of leadership in the gaming industry, emphasizing a cloud-first, PC-first, and console-first approach to Xbox Game Pass subscription numbers.
Thanks for visiting BGN Dive deeper into the gaming world with our latest articles, reviews, and exclusive content. Explore now at BGN and unlock a world of gaming excitement!"