Sometimes a game comes along, where the concept just makes you grin, and Lord Winklebottom Investigates is no exception. 
Do you love detective games, appreciate books about Sherlock Holmes, or maybe you played the Sherlock Holmes series? Or maybe you are fans of independent drawing adventure games created with love and reverence?
If so, then I have the perfect adventure title for you that will combine all these features, and spice it up with a hint of light humour and an interesting storyline. The game is called Lord Winklebottom Investigates and is the work of Cave Monsters studio. It is thanks to the creators, for which I am very grateful, that I had the opportunity to check the game and share Lord Winklebottom Investigates review with you.
Lord Winklebottom Investigates is probably the closest I'll ever get to an Eleventh Hour video game, and like Graeme Base's book, Cave Monsters' point-and-click adventure is inspired by the works of famed author Agatha Christie and features a cast of anthropomorphic characters, led by the titular top hat and monocle-wearing giraffe detective Lord Winklebottom. 
Lord Winklebottom Investigates Gameplay
Set in the 1920s, Lord Winklebottom Investigates sees detective duo Lord Winklebottom and his tea-loving associate Dr Frumple (who happens to be a hippopotamus) head to a nearby island to investigate the death of a famous explorer named Aristotle Gilfrey.
Before his death, Gilfrey invited several people to his home on the island to make an announcement, however, he kicked the bucket before revealing whatever it was he assembled the group to witness. It begins a classic whodunit murder mystery, with Lord Winklebottom and Dr Frumple tasked with finding the killer.
The Mian gameplay then is that mix of whodunnit mystery solving and kleptomania mixed with man-made element manipulation that is the bread and butter of traditional point-and-click adventure. You'll be chatting with guests to try and figure out what happened, and notes on all the characters of interest are automatically captured in a handy notebook that you can refer to at any time. You will then be collecting and interacting with items and the environment.
Lord Winklebottom Investigates Characters
Let me tell you a bit more about the characters and what, or rather who they are associated with before I go on to describe the game in its storyline. Lord Winklebottom Investigates is an adventure work with anthropomorphic heroes, i.e. animals instead of people. But not completely. No, because the characters do not call themselves people, and clearly refer to themselves as animals, although they can be freely combined, for example, a duck with a cat. 
But it is not important with whom and why our pets meet, but the fact that immediately after sinking into the game, or even earlier, just after reading the information about it or watching the trailer, we know that we know the protagonists of the game from somewhere. And if you thought about Sherlock Holmes and Dr. John Wadson, then you were right. The creators do not hide that while creating the game they were inspired by both Sherlock Holmes and the crime novels of Agatha Christie, and you can feel it.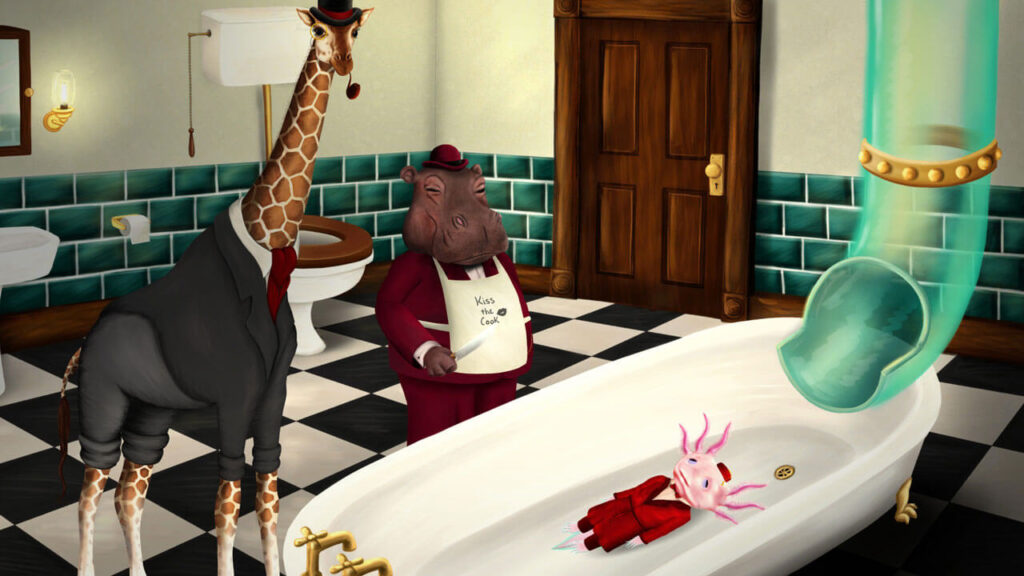 Mostly through the heroes themselves, who may not be cut from the art of Arthur Conan Doyle, but are very similar to them. Mr Giraffe Detective, Lord Winklebottom, is definitely more charming and kind, and well-mannered, probably better than Detective Sherlock Holmes. He does not exude a dose of cynicism and superiority, which is impossible not to feel when dealing with the protagonist of Doyle's prose. He is someone on the border between Sherlock and Hercule Poirot that we could play in.
Agatha Christie series. On the other hand, the counterpart of Dr Watson, Dr Frumple, does not spare a few niggles, is a bit more haughty and, unlike, I think, his prototype, he does not love working in the medical profession that much. For example, he mentions that he is afraid of needles.
Nevertheless, the game refers to the classics of criminal literature and does it in a good, clever way, pleasing not only book fans, and there are plenty of them, but also video game lovers, who in Lord Winklebottom Investigates are eager to see similarities to their favourite criminal games. 
Lord Winklebottom Investigates Hero's
I introduced you to the heroes of the game a bit, although there are many more characters, and I will try to write more about them in a moment. Now it's time for the storyline. Let's start with the fact that Lord Winklebottom Investigates is a classic adventure game that is also a classic detective story. 
We take control of two heroes, although the one we will play is one of them. In the game, we meet friends, detective Lord Winklebottom, a well-bred, charming aristocrat, a giraffe, and Dr Frumple, his companion, confidant and friend who is a hippo. They are both due one day to go to the estate of Admiral Gilfrey, who is a former friend of Lord Winklebottom. After reaching the place, not without some troubles, it turns out that this is the beginning of life perturbations. The landlady states with horror that her master is dead and was found in one of her water tubes. For he was an animal that could only live underwater.
It quickly turns out that the death of Admiral Gilfrey, who also said goodbye to his wife many years ago, is not natural, and he is most likely, but must be confirmed by autopsy, was murdered. In addition, his mansion is full of guests who, as it turns out, have no idea why they came here. All they know is that the deceased was supposed to announce something important to them at the party.
Lord Winklebottom Investigates Trailer
Their task will not be easy, because the already mentioned animal characters await them on the estate and not only. They include Gilfrey's daughter, who, like her mother, is a duck, her fiancée, a cat who is a journalist, a pastor who is a seal, a housewife who is a goat, and a sour gardener who is a snail. In the course of the investigation, as the days go by, the atmosphere becomes denser, more strange cases of murder appear, and the guests seem to hide more and more secrets. We feel, therefore, like a well-tailored detective story in which we try to find a rational and meaningful explanation.
What about puzzles, are they difficult or easy?
Well, the sense and logic are of great importance in the game, because the adventure game I am describing is, as in this genre, a combination of classic exploration and puzzles. Before I go to them, I will focus a bit on the adventure game interface itself. As already mentioned, this is a typical point-and-click game with simplified controls that are done with the mouse.
While playing, we collect items and then use them appropriately. And this is the main element of the mystery in this adventure game, but not only. The items we collect go to the inventory at the bottom of the screen. The things that we manage to find, we can combine with each other, as happens in adventure games, creating completely new and just useful for us.
Lord Winklebottom Investigates Maps And locations
Since we are not visiting the estate itself, but there are some rooms in it, the creators decided to build a map into the game as well. It moves players right after clicking on the chosen place. Thanks to this, we can move to many other locations, visiting the vicinity of the property, such as the cemetery and family crypt, a forest in the form of a labyrinth, a pier and a beach or a lighthouse. We do not have access to all locations right away. We often have to figure out how to get to a new spot.
Dialogues are, of course, an important element of the game. The game has been enriched with the full English language version, about which I will write a bit more on the occasion of the soundtrack. Coming back to the talks, these are the essence of the game move forward. There are really many dialogues, many of them offer us a specific, somewhat English sense of humour and a certain amount of contradiction. This is especially visible in the conversations between the game's protagonists.
I have some but about the technical question of dialogue itself. Well, they regret that the dialogue lines in the form of a text, a dialogue that we have not yet conducted, are not more clearly marked, and somehow they do not differ much more from the rest of the text. In my humble opinion, the discussions already held should also disappear, and this is not always the case. It's a bit confusing.
Lord Winklebottom Investigates Graphics
What immediately catches the eye, immediately after "launching" the game, is of course the graphics. I have already mentioned that we play the game with animals and we only come into contact with animals in the game. There are a lot of them, and just like the rest of the game, they are also created in a cartoon, extremely colourful style.
Many of them have their habits, they also have attributes that accompany them, and they often diversify them. The cat has a glass in his hand, the fairy llama has a glass ball, a deaf pelican a crochet kit, and a seal pastor has a watch attached to his foot and hand. Sometimes it has its justification in the game, often not, but it is a nice variety to the whole and certain old humour that the game does not lack.
And although Lord Winklebottom Investigates is a game made in a fairly simple, painted style, there is a lot of fun to play here. I myself am a fan of classic 2D graphics games, and these are the best and most enjoyable games for me. Therefore, the player who likes this type of graphics will not be disappointed. It combines static, hand-painted backgrounds in the game, quite colourful and vivid, with slightly distinctive 2.5D characters.
I also got the impression that the locations can be very uneven. There are those who delight with graphics and mystery that can be strongly felt in the game, such as a cemetery, family crypt or a dark forest. But there are also a bit weaker, as if less refined.
Lord Winklebottom Investigates sound and music
You already know, after I wrote about it, the title I am reviewing is an independent game, but available in full English dubbed version. And I must admit that this is another small adventure game, created by lovers of the genre, who can pride themselves on great acting. Every character, literally every voice sounds great. The colours of the voice of the actors selected for the game perfectly match the characters, giving them character, panache and authenticity. 
In addition, which is really rare, Lord Winklebottom Investigates is an adventure game available in the Polish language version, in the form of subtitles. And in this case, there is nothing to "pinpoint" on, because I did not find linguistic errors, or worse, not translated dialogues. The fact that the game is verifiable in Polish, I hope will encourage the majority of players to check it out. 
In the end, I left myself with the issue of the sound, which is a bit worse. Often the sounds of the surroundings, especially of objects, sound not very natural. In this case, it is very catchy, this time to the ears, that it is an independently created game.
However, this independence cannot be heard in the musical path, which is very intriguing, performed with the use of instruments, perfectly referring to the 20s of the last century, i.e. the time in which this game takes place. The music strongly twists the atmosphere of mystery and a criminal story, balancing on a light, to dark level, clearly signalling that something important or tragic is happening.
Lord Winklebottom Investigates – summary 
It's time, to sum up, Lord Winklebottom Investigates, an adventure game in a classic style, in beautifully painted graphics, with interesting characters and colourful protagonists. What can you praise the game for? Well, for an interesting story, about a criminal plot, which refers to the works we all love, but at the same time has its style. For nice graphics and great music. For the atmosphere and colour, great English version and interesting puzzles.
Finally, for the Polish language localization, which unfortunately is not part of everyday life. The small shortcomings that we can find in this independent title are definitely and strongly concealed by its adventure somehow. And this game cannot be refused. If you like crime fiction, you love cartoon adventures and works of great crime fiction writers, then Lord Winklebottom Investigatesyou will like it. I had a lot of fun, so I recommend the game to you  Visited our site BGN for more news and guides on various games.