Xbox controllers follow the same philosophy as the entire brand, giving players options, even if many interpret this decision as old-fashioned. Currently, you can use your controller with disposable batteries, invest in their rechargeable versions or even prefer batteries and Charge and Play kits. There are options, and you can choose the one that best suits you.
There is still the option to charge your batteries without even being connected to your Xbox, and one of those options is the HyperX ChargePlay Duo, which is officially licensed for Xbox. Two 1400mAh rechargeable batteries guarantee constant gaming, especially if you have two controllers.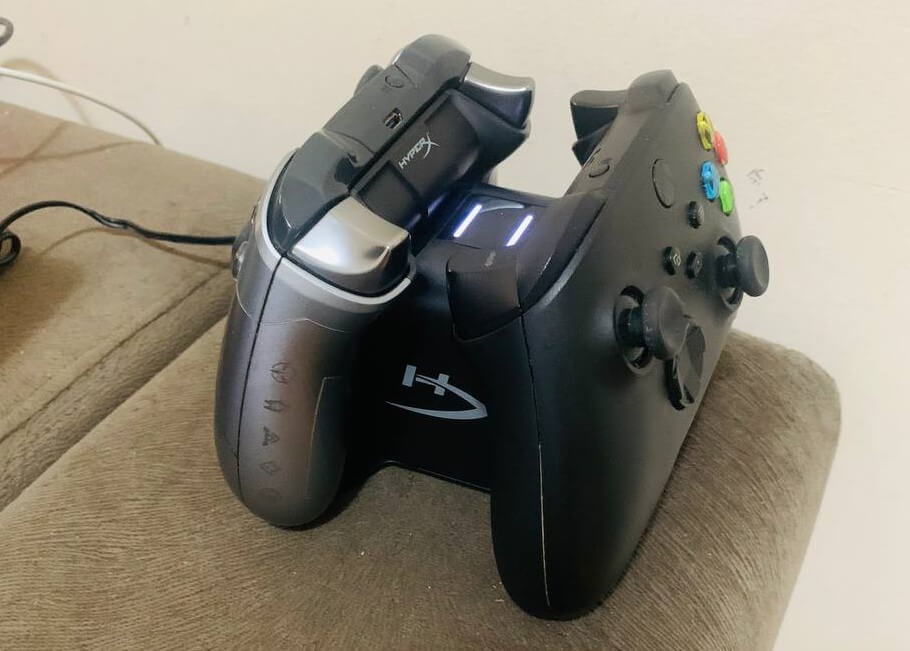 With Microsoft continuing to use AA batteries in their Xbox Series X, we await HyperX's upcoming Series X|S solution to that age-old problem. Well, 16-year-old problem. Until then, we've been testing their 8th-gen. They are charging dock. As the name suggests, HyperX ChargePlay Duo for Xbox One's main attraction is its two batteries and room for two controllers on its charging cradle.
As someone who goes through many batteries on my Xbox controller, I've always admired PlayStation's support of wired charging for its DualShock controllers. Like Xbox's way, though, charging through USB also has drawbacks. With the HyperX ChargePlay Duo for PlayStation 4, you can charge two controllers at once quickly anywhere in your house near an electrical outlet.
The package consists of two batteries, two battery covers for easy charging, the dual charging cradle, and the main power cable.
To use the kit, put the battery into your controller, then replace the original battery covers with those provided. Sitting your controller on its base will start to charge – there are gaps and minor grooves to guide your controller into the perfect charging position. A white light breathing in the corresponding area will show that it is working. There is a light for each charging slot, which is nice.
A nice option for constant gaming
As stated above, the HyperX ChargePlay Duo comes with two 1400mAh rechargeable batteries, and in addition, it has individual LED battery indicators and an AC adapter.
Everything has been designed to guarantee compatibility with Xbox One wireless controllers and, partially, with those of Xbox Series X|S. I say somewhat because the controls made for the Series consoles have differences in the battery cover and, even negligible, do not allow the complete fitting of the surfaces that are part of the product, as they have the Xbox One model. Still, you can charge the Xbox Series X|S controller; usually, just don't use the cover that comes with the kit. The same goes for using the controller with the HyperX ChargePlay Duo batteries, as it will not be possible to close it with the lid, but it can be used commonly, despite this inconvenience.
The central idea of ​​the HyperX ChargePlay Duo is that the user can constantly stay in his game, as it allows to charge two controllers simultaneously, thus ensuring that a second controller is always ready for action. In this way, the product is more recommended for those who already have two controls, as they will be able to enjoy more of the whole proposal. If you only have one controller, you can always charge it when you finish your session to have it set the next day, or you will have to wait for about two hours until the battery is fully charged again after being fully used.
The charging station has a good size and a brilliant design. Place the controls on the base, and the LED lights turn on, showing the status of each of the rules individually. This white indicator also indicates whether the controller is seated correctly or not, which is perfect for Series X|S controllers, which are not compatible with product covers, so we need to fit the battery directly into the charger. The indicator is essential to ensure that the battery is being charged in this case. Something exciting in the design and the entire proposal of the product is that it is not necessary to remove the batteries when it sets; take the controller off the base and start playing. I liked this convenience.
Quailty
The HyperX ChargePlay Duo has rubber on its base, which is an exquisite detail, as depending on the surface it is placed on, this allows stability and security. Finally, it is worth remembering that it is necessary to connect the product to the outlet so that it can work.
Compromises and Commendations
So long as you consider the quirks of HyperX ChargePlay Duo before purchase, you will be satisfied. The stamina is serviceable, and the ease of use is commendable. It works superbly with a second controller ready to house the second battery. It's faultless with another socket handy.
Opinion
I've had the HyperX ChargePlay Duo for Xbox for almost a week now, and I have no complaints. My only caveat is its partial compatibility with Xbox Series X|S controllers, but this is understandable given that it's a product made for Xbox One, so it's even a plus to use it on the new controllers, even if improvised.
The battery has a significant duration, and with the use of two controllers, I was able to keep my gaming sessions always constant. Those who don't have two controllers will need to manage their usage well, as they won't have a second battery on standby. For this reason, I believe that the product could have in its package some support so that at least one battery could be charged without using a controller, which would embrace a wider audience.
Practicality is a critical point, and I enjoyed being able to take my controller off the charger and start my game without complications. You can't charge it while you're playing, but you can guarantee that you'll have another one waiting to spring into action again when one controller runs out of battery.