Apex Legends offers plenty of cosmetic options for the famous battle royale fans. While many cosmetic offerings are available in the game's store, some skins, like the Stone Skies Newcastle set, are an exclusive reward. Here's how players can grab this coveted skin set for their account.
Players can grab the Newcastle Stone Skies skin set as part of the Prime Gaming promotion. Apex Legends announced the Newcastle Stone Skies skin set as part of an ongoing deal with Amazon to bring regular packs to Apex Legends with exclusive cosmetic offerings.
Here is how to claim the Newcastle Stone Skies Skin and other cosmetics in Apex Legends if you have a Twitch Prime account.
Every month in Apex Legends, a new bundle is released exclusively for Twitch Prime members. These bundles contain a Skin for a particular Legend and some other cosmetics, which is typically a Banner for the same Legend and a Weapon Skin.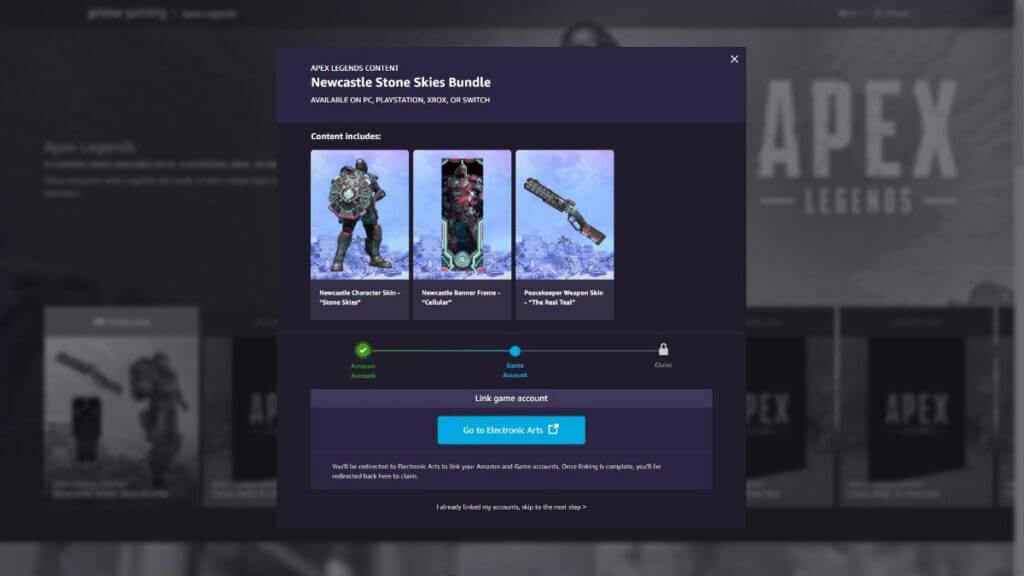 These bundles are only available for a limited time, so it's best to claim them as soon as they are made available as they likely will not be re-released. To be eligible to claim these bundles, you must have an Amazon Prime account and an EA account, and these must be linked for you to be able to claim the rewards on your account. There is only one bundle available for an account.
How to Redeem the Newcastle Stone Skies Bundle
Head to the Apex Legends Prime Gaming loot page. Here, you'll see a bundle with the Newcastle Stone Skies items. Press Claim Now to start the redemption process. Next, you'll need to link your Electronic Arts and Amazon accounts. Press the Go to Electronic Arts button on the following menu. Pressing the button will open a new tab in your current browser.
In the new tab, sign in to your Amazon account. After you've signed in, EA will ask for access to your Amazon account to verify that you're a Prime Gaming member. Click Allow to link your EA account. Sign in with your EA Account information if you've already got an account, or create one if you still need to. Accept the User Agreement and Ea Privacy and Cookie Policy and hit Next to continue.
EA will send an email verification with a code. Enter that code into the following box to enter your EA Account. Next, select Link Your Accounts to finalize the account link between Amazon and EA. Click Return to Amazon to return to the Prime Gaming page. Once you're back on the Prime Gaming Page, select Complete Claim to claim the Newcastle Stone Skies Bundle.
EA will send the following items to your account in-game:
Newcastle Character Skin – "Stone Skies"
Newcastle Banner Frame – "Cellular"
Peacekeeper Weapon Skin – "The Real Teal"
Free Apex Legends Newcastle Stone Skies Skin – May 2022 Twitch Prime Bundle
As previously mentioned, there is a new bundle released every month for you to claim for free and the bundle for May 2022 is available to claim now.
Here is a step-by-step guide on how to claim the Newcastle Stone Skies Skin bundle:
Go to the Amazon Prime Gaming website and search for Apex Legends, or click here for the direct link.
You will then see the 'Newcastle Stone Skies Bundle.' Click 'Claim now.'
Enjoy the in-game content! If you have the game already open, restart the game, and you should see a message which says the Prime Bundle has been claimed.
All the other Newcastle skins need to be purchased with money, so this is the only free skin some players will be able to get at the moment.