Unveiling the Enigmatic Unrecognized Coin (UC): PUBG Mobile's Coveted Currency In the dynamic realm of PUBG Mobile, there exists a prized and elusive treasure known as Unrecognized Coin (UC). These coins, though challenging to acquire, hold immense value in enhancing your gaming experience. With UC at your disposal, a world of masks, costumes, and even the regal corridors of the game's universe opens up before you. In essence, securing UC in PUBG Mobile stands as one of the most coveted achievements a player can attain.
Spanning across the globe, PUBG Mobile draws players of all ages into its immersive universe. A captivating feature lies within the game's unique in-game currency, which empowers players to unlock an array of items ranging from the prestigious Royale Pass to captivating costumes and beyond.
This article embarks on a journey to unravel the mysteries of obtaining 1800 UC for free in PUBG Mobile through the exhilarating Bonus Challenge. Delve into the strategies and tactics that can pave your path to this coveted bounty, as we explore the means to elevate your PUBG Mobile experience without breaking the bank.
How Earn Free 1800 UC In PUBG Mobile: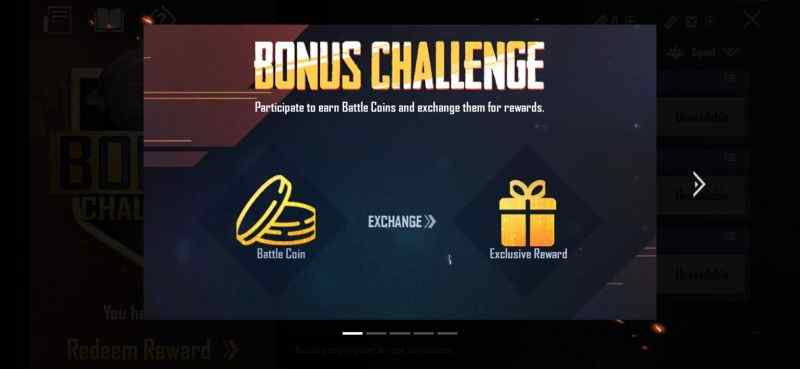 This bonus system allows players to show their skills and earn points based on their performance in the game. A good in-game chicken dinner with enough killing can bring you some good battle coins.
What is the Bonus Challenge in PUBG Mobile?
The Bonus Challenge within PUBG Mobile is a captivating in-game event designed to provide players with a thrilling opportunity to engage in competitive gameplay. To partake in this event, players can utilize Bonus Challenge vouchers, which serve as the key to unlocking the doors of this exciting endeavor.
To embark on this journey, navigate to the Tournament Center within PUBG Mobile. You can conveniently access this by clicking on the "Cup Icon," prominently positioned beside the start button. Upon entering the Bonus Challenge, you'll discover that your first entry comes free of charge, allowing you to dive right into the action and acquire additional vouchers.
Adding to the excitement, your involvement in the Bonus Challenge is accompanied by enticing rewards based on your progression and commitment. Depending on your in-game level, you'll be bestowed with complimentary coupons on a weekly basis. These valuable coupons can be located within the game's weekly report section, further fueling your motivation to conquer the Bonus Challenge and claim the rewards that await.
In essence, the Bonus Challenge adds a layer of exhilaration to the PUBG Mobile experience, granting players the chance to prove their mettle and reap the benefits of their skill and dedication.
How To Register for Bonus Challenge

Signing up for this challenge is very easy. Players need additional challenge vouchers to enter the tournament. In Classic Bonus Challenge, players can play solitaire games, duets, and teams based on their preferences.
There are three levels of bonus challenge:
#1 Novice:
Requirements: 1 Bonus Challenge Voucher
Highest Reward: 1000 Battle Coins
Kill Points: 15/enemy
Win Points: 200.
#2 Adept:
Requirements: 2 Bonus Challenge Voucher
Highest Reward: 2000 Battle Coins
Kill Points: 30/enemy
Win Points: 450.
#3 Expert:
Requirements: 3 Bonus Challenge Voucher
Highest Reward: 3000 Battle Coins
Kill Points: 45/enemy
Win Points: 700.
Bonus Challenge TDM Warehouse Matches
To take quick action on the reward challenge, PUBG Mobile recently unveiled its TDM warehouse. In this mode, players can earn battle points by playing TDM Warehouse games. Help players who do not want to play classic games but want to earn some good battle points.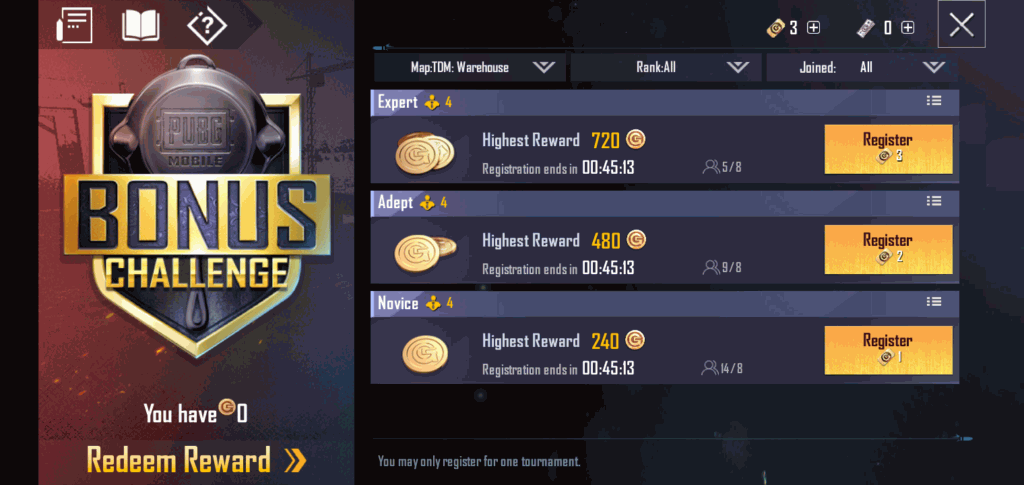 In the TDM Warehouse Rewards Challenge, there are also three types of tournament stages, with different types of point systems.
Bonus challenge also allows players to participate in TDM matches. Compared to the classic game, prizes are lower. But if you want to win some coins for fast battle, this is the mode to choose.
#1 Novice:
Requirements: 1 Bonus Challenge Voucher
Highest Reward: 240 Battle Coins
Kill Points: 3/enemy
Win Points: 120.
#2 Adept:
Requirements: 2 Bonus Challenge Voucher
Highest Reward: 480 Battle Coins
Kill Points: 6/enemy
Win Points: 240.
#3 Expert:
Requirements: 3 Bonus Challenge Voucher
Highest Reward: 720 Battle Coins
Kill Points: 3/enemy
Win Points: 360.
Rewards
The battle coins you collect can be used by playing the reward challenge at the exchange. Here you can exchange it for tons of rewards, such as UC Packs, Clothes, and Skins. The rewards are updated every week. UC packet cost is listed below:
100 UC Pack = 1000 Coins Battle
300 UC = 3000 Coins Battle Package
500 UC Pack = 5000 Coins Battle
Each package can be purchased twice. So, you can get up to 1800 UC for free only by playing a bonus challenge. The cost of a property permit is 600 UC and therefore can be easily obtained in this way without paying real money.
For more information and the latest updates stay tuned with BreakinGameNews.