How do you upgrade cars at Hao's Special Works in GTA Online? Hao's Special Works is a new addition to the LS Car Meet, which allows you to upgrade select cars with special HSW Tuning Upgrades exclusive to the new-gen version of the game, including the PS5. As part of our GTA Online guide, we will explain how to upgrade cars at Hao's Special Works.
GTA Online Special Works Hao is a significant new addition exclusive to PS5 and Xbox Series X players, building on the groundwork laid out by LS Car Meet to expand the area of vehicle modding further. With this update, things are being taken to the extreme in GTA Online as Hao is the undisputed master of car customization and has some fantastic upgrades at his disposal. This means you can create motors that deliver precise handling and G-force induced acceleration with a unique paint job that's guaranteed to have everyone looking your way. If you want to get things moving, here's how to use GTA Online Hao's exceptional works and services available once you're set up.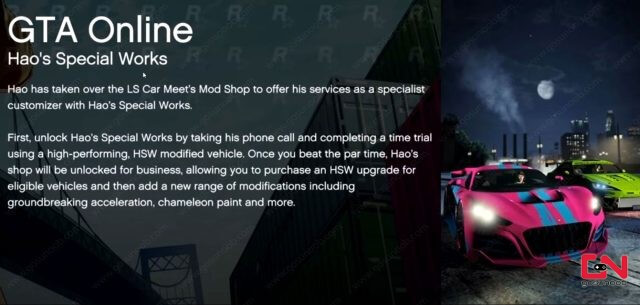 GTA Online: How to Upgrade Cars at Hao's Special Works
On this page, we will explain how to upgrade cars at Hao's Special Works. Note that this is only possible in the PS5 or new-gen version of the game, so you'll need to learn How to Transfer Your Character from PS4 to PS5. Once you've done all that, load into GTA Online and follow the steps outlined below.
Not long after you start GTA Online on PS5 or Xbox Series X, you'll receive a phone call from Hao to introduce you to his Special Works service, after which an icon for Hao's Vehicle will appear on your map. Go to this location and interact with the marker to open Hao's garage, where you'll find a heavily modified Grotti Turismo Classic and get behind the wheel. Hao will challenge you to an epic checkpoint time trial around the city, and if you can beat his time of 08:10.00, you'll unlock the GTA Online Hao's Special Works services for use. As a bonus, players transferring from PS4 or Xbox One will also be able to claim a fully upgraded Karin S95 for free after this point and receive the Dark Purple Pearl and Red Prismatic Pearl Chameleon Paints.
Where is Hao's Workshop in GTA Online
To find Hao's Workshop location in GTA Online, you need to head to the LS Car Meet icon in Cypress Flat. This is to the southeast side of Los Santos, and we've indicated it on the map above – you can also scroll down the list of markers to highlight the LS Car Meet. Once inside the meet, move to the northeast corner of the warehouse to reach Hao's Mod Shop.
Wait for a Call from Hao
First things first, you will have to wait to receive a call from Hao. Head to Los Santos and wander around for a bit. It shouldn't take long for Hao to contact you about a terrific new car he wants you to test drive. Set a waypoint for Hao's Garage on Vinewood Blvd and raise the shade. You'll get a cutscene where Hao introduces you to the car, and then you're behind the wheel.
Beat Hao's Time
Get ready because you will be thrust into a time trial here. Fortunately, it's not hard to beat Hao's Time, even if he will send you around most of Los Santos. You'll have 8:10 to win the time trial, and we cleared it in 7:30 with many crashes and spin-outs, so you should be fine as long as you're relatively competent at the game. Throughout the time trial, Hao will introduce the various upgrades exclusive to Hao's Special Works, including engine, braking, and transmission tuning. The car goes faster than anything in the PS4 game.
The end of the time trial is conveniently just outside Cypress Flats, where the LS Car Meet takes place. You will receive a call from Hao to confirm that you passed the test, and he will tell you to stop by Hao's Special Works to upgrade your car. You'll even get a free tuning conversion for your troubles and a bunch of extra cosmetics. Note that you will need to know how to find the LS car meeting and become a member before proceeding any further.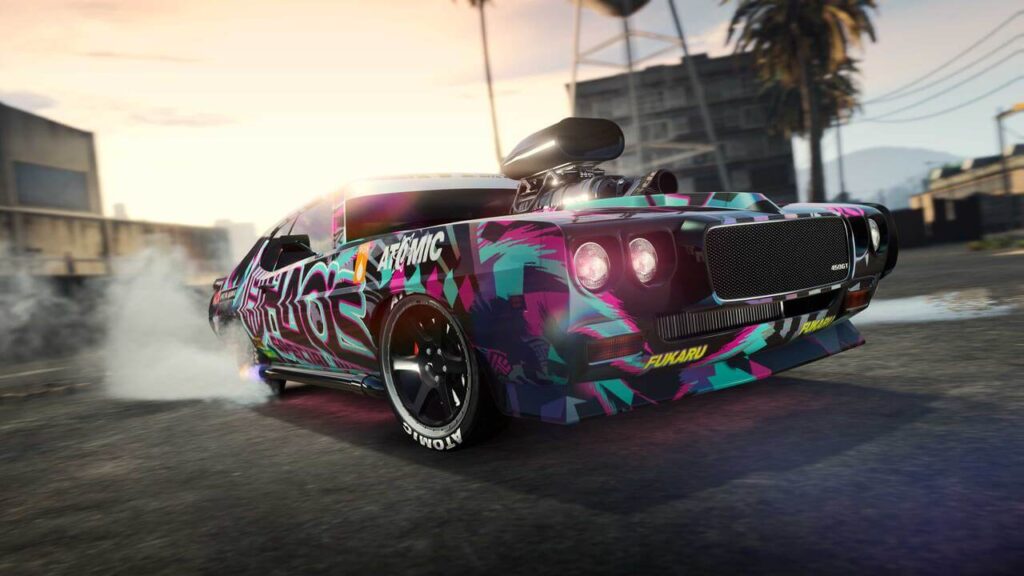 GTA Online Hao's Special Works vehicles
There are currently a total of nine GTA Online Hao's Special Works vehicles that you can bring to his Mod Shop for customization, which are as follows:
Existing vehicles:
Bravado Banshee
Grotti Turismo Classic
Shitzu Hakuchou Drag
Ubermacht Sentinel XS
GTA Online new cars:
Coil Cyclone II
Karin S95
Imponte Arbiter GT
Pegassi Weaponized Ignus
Pfister Astron Custom
You can also find this compatible HSW Vehicle List by accessing the laptop in Hao's workshop, which provides direct links to the relevant websites to make your purchase.
Take an Eligible Car to the LS Car Meet
It's worth noting that Hao's willing to give you a free car, too, assuming you've beaten Hao's Time and are a returning player. Bring up your smartphone and head to Southern San Andreas Super Autos to grab a complimentary Karin S95, complete with Hao's Special Works tuning upgrades. You can find a complete list of All Cars Compatible with Hao's Special Works Tuning Upgrades through the link. You can also learn more by interacting with a laptop in the Mod Shop area of the LS Car Meet.
Once you own a compatible car and become an LS Car Meet member, take it to Cypress Flats and sit inside your vehicle to bring up the menu. Press right on the d-pad to Mod Vehicle, and you'll first need to convert your car to be compatible with HSW Tuning Upgrades. You'll get one free conversion as part of beating Hao's Time. You can find a complete list of all conversion costs in our All Cars Compatible with Hao's Special Works Tuning Upgrades. With a successfully converted car, you can add HSW tuning upgrades for Engine, Transmission, Brakes, Suspension, Turbo, and more. Purchase the upgrades you want and make sure they're equipped.
With all that done, you're guaranteed to have one of the fastest cars available in GTA Online, so have fun and remember to respect other drivers and observe traffic rules. Oh, who are we kidding? Go with the flow and destroy as many Los Santos as humanly possible.
GTA Online Hao's Special Works services
Once you own a fair ride with GTA Online Hao's Special Works services, drive it to the LS Car Meet and go to Hao's Mod Shop. Select a conversion with an HSW Performance Upgrade to make your vehicle compatible, after which you can then apply HSW custom options, including:
Chameleon Paint
Countermeasures (for the Weaponized Ignus)
HSW Brakes
HSW Engine Tune
HSW Suspension
HSW Transmission
HSW Turbo Tuning (Stage I, II, and III)
Other services provided by Hao include the HSW Specification Service, where he can duplicate the customization of any other player vehicle on display at the Car Meet, Hao's Premium Test Ride to try out a selection of modified cars with the option to purchase them immediately if you approve, plus the HSW Race Series and HSW Time Trial to prove your driving skills in these high-end rides.