The city of Los Santos in GTA Online never rests. There will always be activities that players can participate in, game modes that should not be overlooked, rewards to obtain for free and much more, which is why in the following guide, we will show you let's tell everything that awaits you until May 18, 2022.
Rockstar Games is feeling overly generous this week by offering all GTA Online players quadruple bonuses for partaking in Freeroam challenges and events and some tasty discounts on a host of vehicles. GTA+ members on Xbox Series X|S can still grab this month's goodies, which should be available for two weeks. Let's dive in and see what we can steal this week.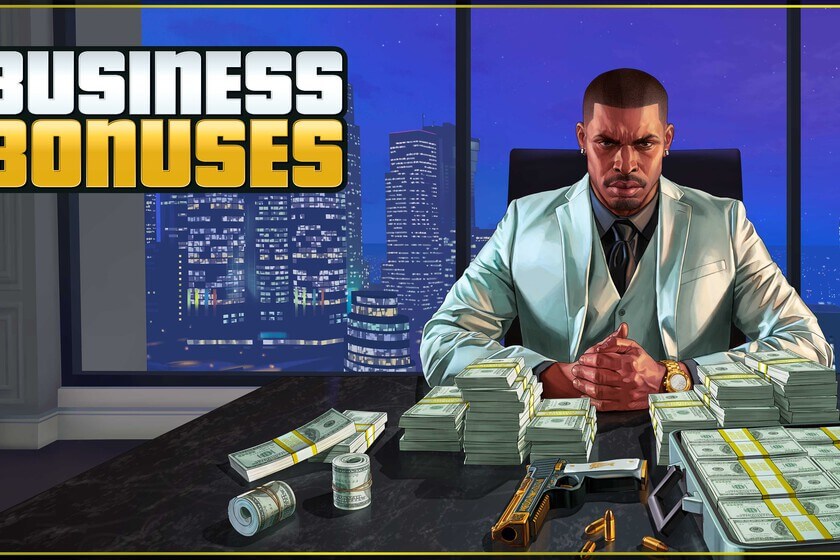 All bonuses and discounts until May 18, 2022
Podium Vehicle
In the lobby of The Diamond Casino & Resort casino, you will find the Wheel of Fortune, which will allow you to win a series of prizes, including food, money, and clothes. Still, you can also get the podium vehicle: the Ocelot Ardenta two-door car equipped with two machine guns on the bumper.
Items to get for free
This week there are no clothing items to take away for free. However, you will have the opportunity to take a car and also 200,000 dollars for following the steps that we indicate in these guides.
Exclusive PS5 and Xbox Series Bonuses
Versions of PS5 and Xbox Series X/S. They have been on sale for a long time now, although what does not change is the fact that only these users will have access to exclusive bonuses:
time trial: In this particular race, you will have to put your foot down between Vinewood East and Vespucci Beach.
Test vehicle: In Hao's Special Works, you will find the Shitzu Hakuchou motorcycle modified with all the equipment of this place and all its extras.
Additional rewards and bonuses
Many other game modes will give you more money and reputation points than normal. These days you will have entertainment for a while with all these:
Accessible mode– Your various events and challenges will temporarily offer quadruple dollars and reputation points.
Engine Wars– Only those who make it through this chaotic game mode will win, but whether it's you or not won't matter because everyone will earn double the rewards.
Bonuses with Prime Gaming
Lastly, everyone who is a subscriber to Prime Gaming will have a chance to win $100,000 for free. Link your account with the Rockstar Games Social Club account and play at any time this week.
Each month you'll be given a host of rewards for subscribing to GTA+, such as clothing items, vehicles, customizations, etc.
Vehicle: Head to Southern San Andreas Super Autos website on your phone or the laptop at Hao's Special Works to collect the Grotti Brioso R/A, which Hao has modded. Additionally, please take it to HSW for a free performance upgrade and two free exclusive HSW liveries. GTA+ members can modify the Grotti Brioso R/A at Hao's Special Works exclusively until May 5th, when it becomes available to all players on Xbox Series X|S.
Agency: All GTA+ members this month will gain immediate access to the Agency office after Lamar has called you about a business opportunity. Head to Dynasty8 Executive to get the Agency to access office space and the ability to play Dr. Dre's The Contract, Security Contract, and Payphone Hit missions, as well as use Imani Tech. GTA+ members can also access Wallpaper customizations to complete your Agency's look.
Vehicle customization: Head to any auto shop this month to claim your free, red-themed Split Camo Livery for the Übermacht Cypher.
Clothing: All GTA+ members will receive the Red Tint Oversize Shades, Red Bangles, and Red Swirl Smoking Jacket.
Events & Bonuses
Each month, GTA+ members will have exclusive access to bonuses from various missions and events. Get out there and reap the rewards while making a name for yourselves.
Kart Krash: Take the weaponized micro-machines for a spin in Kart Krash missions this month to earn yourself x2 GTA$ and RP.
Security Contracts: Making yourself available to hire as a semi-heroic badass in Security Contracts this month will see you handsomely rewarded with x2 GTA$.
Nightclub Warehouse Sell: Selling whatever dodgy goods you've stored in Nightclub Warehouse Sell Missions will reward you with x1.5 GTA$ and RP.