F1 22 from developer Codemasters and EA Sports arrive at perhaps the most interesting, if not critical, time possible. The game is not quite what we hoped, but beyond EA's unnecessary flair, F1 22 retains the qualities of a familiar friend and it's guaranteed to be a summer smash.
This year's Formula One season underwent dramatic changes to the majority of its regulations. What teams can spend and how, as well as how the vehicles actually get developed and designed has led to huge changes for the on-track performances and, in turn, for spectators.
The task for F1 22, besides following up on a brilliant next-generation console debut with last year's F1 2021, is juggling the implementation of those changes while also assuring the experience is as welcoming to new players as possible as the sport's popularity keeps increasing.
F1 22 Description
A new era, bigger rims, updated car design with a focus on the ground effect, as well as changes in regulations to bring more and more competitiveness and excitement to the biggest category of world motorsport. All this call was for the 2022 season of the Real Formula 1, but could Codemasters deliver all this in F1 22? 
Developed by Codemasters and published by Electronic Arts (EA), F1 22 was released on July 1, 2022, for consoles (old and current generation) and PC. Betting on the hype generated with the update of the Formula 1 cars, and on the new fans of the category, F1 22 promises to be the most accessible title so far and offer fun for both casual and experienced players who crave challenges.
F1 22 Gameplay
Have you ever thought about having a house full of supercars in every room? One of the biggest new features of F1 22, right after the new F1 cars, of course, is the F1 Life.
In this area you'll be able to customize almost all the environments of a house, in addition to changing clothes, overalls, helmets and gloves that are earned by levelling up and, of course, buying bitcoins, the game's virtual currency that can be purchased with real money. Some real brands are present there like Anti Social Social Club, Puma, Sparco and Beats.
From F1 Life you have access to a store with discounted daily items, there you will find furniture, floors, decoration arts, lighting and much more.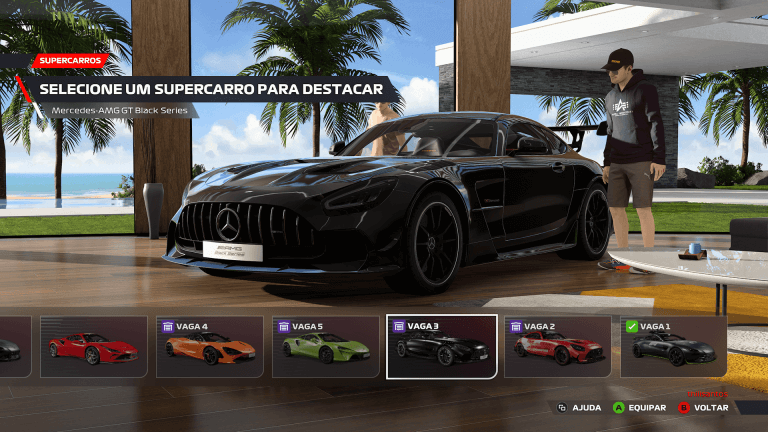 But the coolest part of it all is the supercars, you can place 6 cars in your space. These supercars are conquered by earning challenge tokens, completing a certain race, beating a time in the Time Trial mode, etc. AMG GT Black Series.
Oh, it's nice to mention that now your trophies are in F1 Life and we also have an area called Cinema, where you can check out your best video moments, whether recent (automatically saved) or manually saved always at the end of the races.
Career Mode
The career mode, in my opinion, was where we had little news. They follow the well-consolidated recipe of the previous games, everything flows well and the visual experience follows the line of F1 2021.
By selecting a solo career, we can continue like a driver who is looking for his space, whether in F1 or F2. If you are just starting with Formula, I highly recommend that you start in F2… the cars and the grid are from 2021. In this category, because the cars are less skittish than in F1, this can help with the learning curve.
Here it is possible to select whether the season will be complete, following the official calendar with all tracks, or a custom season. Where we can add and remove cues for a customized experience.
An interesting novelty for the career mode of F1 22 is the possibility to start a season in the current state of F1 Real, that is, if you select a specific Grand Prix, all the scores of the teams and drivers will be those of that moment. This makes for a nice experience because you can select any pilot and fight to turn the tide.
In the workstation, where the driver has access to race data, team messages, weather and of course the Research and Development (R&D) sector, everything remains very similar to the previous edition. Some options have been relocated to speed up gameplay and make navigation more intuitive.
One of the things I would like Codemaster to pay more attention to is the Rivals tab. Formula 1 is driven by competition between drivers, and here the game fails to continue not delving into it.
However, for the guys who enjoy doing countless seasons, a nice feature has been implemented. It is now possible to carry out training without going to the tracks, that is, through probabilities, the pilot can advance these stages and still collect points that can help in his development. I found it very interesting because, in addition to encouraging the player to go through that stage (which can be tedious at times), it ends up paying them and the progress in the game will be more satisfying.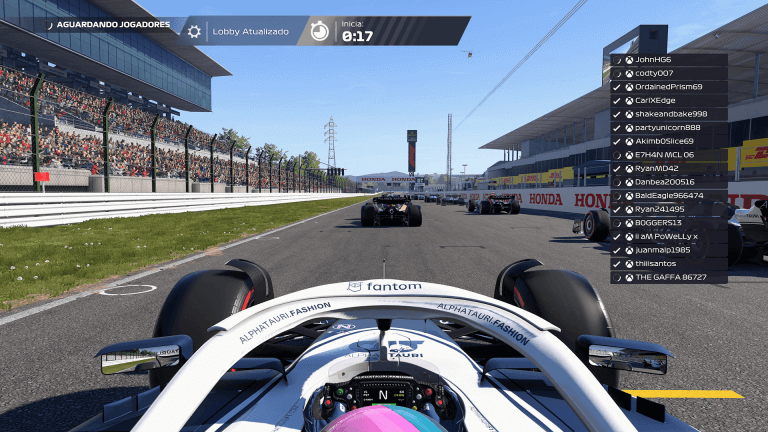 In duo career mode, you can invite a friend to a season where they can be on the same team or not. And throughout your career, changing teams through contracts, fun is guaranteed. I thought that something local would be possible.
F1 22 Shoddy Supercars
Another new feature is the addition of eight supercars—ranging from the Mercedes-AMG GT Black Series to the Ferrari F8 Tributo which you can display in various areas of your pad. This is pretty neat until you realize how little you can do with them. There's a playlist of challenges called the Pirelli Hot Laps, which consist of goals like drifting and time attack. But, that's it. You can't race them against AI or online challengers. You can just look at them, groan at the awful tire squeal, and grow puzzled at their binary handling.
F1 22 Ground Mode
The Grand Prix modes, where the player can select any circuit (one or several) and customize everything the way they want, and the Time-Taking mode for those who like to improve their time, learn the track, etc. are back. But the novelty for F1 22 is being able to do Time Shots with the supercars we mentioned in F1 Life.
Codemasters has knowledge of the physics of this type of car, it is also a developer of series like GRID and Dirt. It's cool and all, but for me, the feeling of speed and especially the rear camera mode leaves something to be desired and deserves improvements.
F1 22 multiplayer
Beginner sessions with collision disabled will make it easier for new players to join. The search for rooms is much faster, but what catches here is the number of people online. Due to the very high value of the game, we found few people in the lobby (at the time of this review). I believe this scenario will change by the end of the year with promotions and so on.
F1 22 Graphics And sound 
The game has been very beautiful since F1 2020, both in car models and on the tracks. But the impression I had is that we haven't had much evolution in the other models. The characters are reused in all cutscenes with a very old look, showing a lack of whimsy. This does not affect the gameplay at all, but the contrast with the modelling of the tracks and cars is very sharp.
The sound effects in turn have been improved, sounds like acceleration, reduction and cuts appear with more quality. As well as its reverberation in the scenarios.
A point that received attention was the curbs, their use is crucial to improve lap times, as they are an imminent risk to spin your car or put it off the track. On the controls and on the steering wheels the force feedback is sharper, it's an excellent indicator of when to release the accelerator or step up.
F1 22 Gameplay Trailer
The new circuit and track changes
This year we had the debut of the Miami (USA) GP, located downtown next to Hard Rock Stadium (a stadium for American football, baseball, soccer and lacrosse). The circuit has 5,412 km and 19 turns, some of them with very low visibility and is quite challenging.
Spain, Australia and Abu Dhabi also underwent updates in the year 2021, and they were reflected in F1 22. The Circuit de Catalunya in Spain from Turns 10 to 14 will feature new off-track areas in addition to the new curbs introduced. 
F1 22 PC requirements: Minimum and recommended specs
The minimum PC requirements for F1 22 say that you need a 64-bit processor and operating system, as well as a broadband internet connection, plus the following specs.
OS: Windows 10 64-bit (Version 1909).
OS for ray tracing: Windows 10 64-bit (Version 2004)
Processor: Intel Core i3-2130 or AMD FX 4300
Memory: 8 GB RAM
GPU: NVIDIA GTX 1050 Ti or AMD RX 470
GPU for ray tracing: GeForce RTX 2060 or Radeon RX 6700 XT
DirectX: Version 12
Storage: 80 GB of available space
Sound Card: DirectX Compatible
Opinion About F1 22
When we talk about innovation, for racing games it seems that it is always very difficult. Because the recipe is ready, in the scene we see those who try to go too far usually fail. Still, we want these recipes to be spiced up, bringing as much reality as possible.
F1 22 is not considered a racing simulator for details, but if you analyze it well, this may not be Codemasters' intention, as the mass is what brings the money in the end… price is not at all) requires that it can be played by everyone, and for this huge group to be a fun time. And in this regard, Codemasters knew how to provide options for those looking for fun/entertainment or challenges, or both together.