Elden Ring no sound or audio fix – If you are experiencing sound issues in the Steam Version of Elden Ring, you can come to the right place. A lot of reports are coming in regarding this. So don't worry, you are not alone.
In this guide, we will be looking at some of the fixes for the sound and audio issues associated with Elden Ring. While the game is extremely fun, it is not bug-free, and players gradually encounter such problems. If you have been facing an issue related to Elden Ring's audio, you are at the right place. We will be looking at the reasons why this issue might be occurring along with the possible fixes for it.
Since the review copies were released, Elden Ring has been welcomed on very high stakes. While the game stands true to the placed stakes, it is not as error-free as people might have hoped. If your game has no audio on different game sections, then your windows settings might be the culprit.
Elden Ring No Sound or Audio Bug
One of the biggest games of 2022, Elden Ring, is finally out. And it is already breaking records all over the world. The last time I checked the reviews of Elden Ring, it was raining 5s and 10s. Every reviewer, every normal player, seems to be enjoying Elden Ring.
But it looks like BANDAI NAMCO has not managed to eliminate all the bugs and issues from the game. So far, new bugs have been popping up now and then.
Don't get me wrong, Elden Ring is an awesome game. But it is riddled with bugs, glitches and technical errors. Though, the people at FromSoftware, are constantly on their toes to fix the issues. The game has around 750k players playing on Steam at the moment. So, I can easily imagine what kind of pressure the devs are going through.
Anyway, In this article, I am looking at an error or bug that has to be one of the annoying ones. It is the "no sound" or "no audio" bug. So what is up with this 'no sound' bug? Well, It is a bug that many Elden Ring PC players are currently experiencing in the game. The bug is causing the game to go completely mute. The issue is more prominent in versions different from English.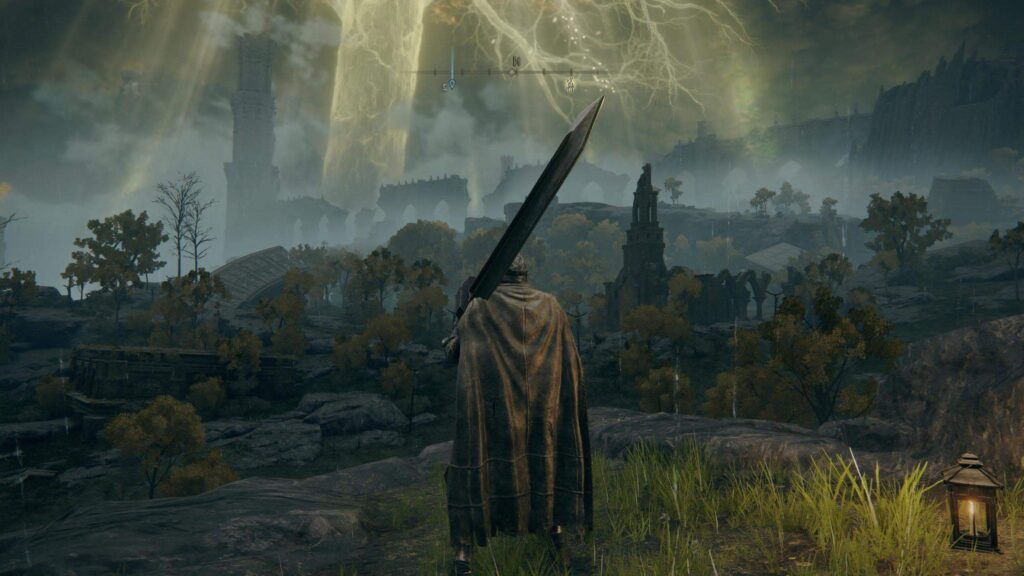 How to fix the No Sound or No Audio bug in Elden Ring
Right-click the speaker in your system tray (Windows taskbar, lower right)
Open Sound Settings
Under the Sound Tab, make sure your Output Device is the device you wish to hear the sound on
The first time I launched Elden Ring, the game automatically switched my audio output. I had to change it back
In this doesn't work for you, Go to the Steam Library
Go to Elden Ring > Right-click > "Properties" > "Language"
Change language to "English" and close the tab
Make sure that you have Spatial Sound or Windows Sonic off. Windows Sonic is a bit buggy at the moment.
Wireless users can try using headphones with a 3.5 mm jack. I have faced many audio issues while playing games with my Logitech G733 Bluetooth wireless headphones. I cannot tell you that what I am suggesting will fix the problem, but since this has worked for me quite a few times, I advise you to use a pair of wired headphones with a 3.5 mm jack.
If none of the solutions mentioned above work, there's one last thing that you can try. Although this is a suggestion that many other websites might advise, you should try this only if you face audio issues while playing all games, not specifically Elden Ring. The advice is simple – Reinstall your audio drivers. But please note that this might not be the best idea if you ask me.
If your audio driver has been corrupted, it won't specifically affect a single game. It will impact your entire system. So as long as you can hear everything else, there is no need to re-install drivers.
Run other games and check your sound. Go for fresh driver installation only if you face the same issue in other games. Go to the official website of your Motherboard, and download the drivers from there. Don't just download from a random website.
Adjust the Sound Mixers
The sound mixers are a key feature of Windows that lets you change and update your sound settings for individual applications. There is a fair chance that you have them misconfigured for Elden Ring. Here is how you can fix them.
Open Elden Ring with another game in the background and press Alt-Tab to head back to the Desktop.
Right-click on the speaker icon on the taskbar and click on open volume mixer.
Bump Elden Ring's audio to the max and save the settings. Now hit the close button and launch the game.
 Repair the Game Files
If you have tried the above solutions to no avail, it might be time to check if your in-game audio files are corrupted. If you have downloaded Elden Ring from steam, you can repair the setup to give the game a fresh start. Here is how you can do that:
Go to the Library menu on Steam
Right-click on Elden Ring
Select Properties
Go to the "Local Files" tab.
Click the "Verify integrity of game files" button.
Once it is done, restart Steam and run Elden Ring.
If the fixes mentioned above have been unable to solve your issue, you should wait for a developer-side spot. You can search around in the forums to see if others face the same problem. If not, you can contact customer service to find a PC-specific solution.
So, that is all on "How to fix the No Sound or No Audio bug in Elden Ring". If you think this guide has helped you, let us know in the comment section below. And for more Elden Ring guides, keep an eye on Frondtech. We will be covering every single technical issue of the game on the launch day.