THE activision continues to popularize its games with promotional actions and this week puts the multiplayer of Call of Duty: Vanguard free for all players. The free period is available until the day December 21, with Max Double XP bonus – Player XP, Operator XP, Clan XP and Battle Pass XP.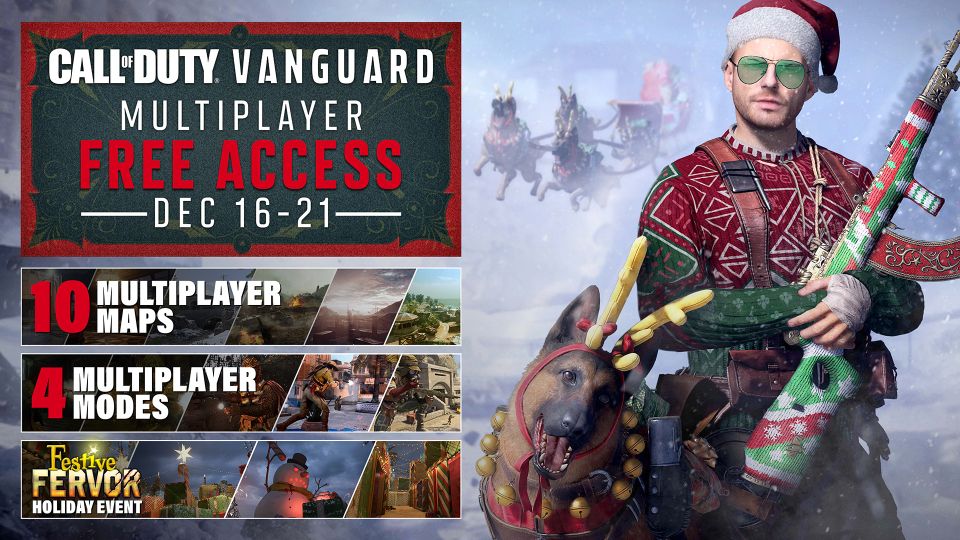 This limited-time Free Access includes three playlists, two of which carry the spirit of Festive Fervor.
One of them is the Free Kills Playlist, a mix of Team Deathmatch, Domination and Conflict Zone in all Combat Rhythms on the new Radar map and also in Das Haus, Hotel Royal, Eagle's Nest, Numa Numa and Shipment. This playlist also includes Armageddon and Shipmas after the Festive Fervor update, which is now available.
After this update another playlist goes live: Shipmas 24/7, bringing exactly the same modes and all combat rhythms, but – as the name suggests – Shipmas all day
The free weekend also features Battle of Champions, the new tournament-style survival mode where building efficient weaponry is just as important as quick reflexes in tense small team battles. This Battle of Champions playlist will be in trio tournaments.
In all three playlists it is possible to evolve all Vanguard weapons twice as fast thanks to Max 2XP, including four new weapons introduced earlier in the season. A perfect time for those looking to experiment with new weapons or build their own meta weaponry for WarzoneTM Pacific, and all that weapons experience – plus player XP, Operator XP, Clan XP and Battle Pass XP doubled over the weekend – will also go to Multiplayer and Zombies when upgrading to full game.
Those who enjoy the free weekend are in luck as this is the best time to get the full version of Vanguard as everyone who owns or buys the game by December 31st will receive plenty of holiday gifts for use in
vanguard
and
Warzone Pacific
:
10 Step Leaps from the Battle Pass for Season One –

automatically unlocks a Business Card and 100 COD Points, or even more rewards with the purchase of the Battle Pass
A 10% Player XP, Weapon, and Battle Pass boost during Season One

– securing the next prestige icon, weapon accessory, or battle pass tier faster with this XP boost

The 24 ranks of

vanguard

of the Season 6 Battle Pass
the players of warzone they can be happier now that the anti-cheat system will finally be available through an additional driver on battle.net. The system is still PC-only, but it can help in a fairer community.
The PC nuclear-level driver for RICOCHET Anti-Cheat is one of the elements of a multi-faceted anti-cheat security initiative, which also includes game monitoring, server security updates, account authentication updates and more. The driver is part of a larger system.