Apex Legends is a highly competitive and challenging battle royale first-person shooter that has remained popular for three years. The game encourages players to choose whatever control method works for them, and luckily, almost everything is customizable. In this blog, we discuss the Best controller settings for apex legends Season 13.
PC gamers often despised Controllers, as a mouse is often a more reliable aiming method. The controller has fans, from console fans to keyboard haters, and its mapping options remain essential and viable. To get the best controller settings in Apex Legends Season 13, players should make sure that they configure their presets to suit their equipment.
Fast-paced competitive FPS titles such as Apex Legends require high precision when it comes to controls, and having one's controller settings meet the needs for high-performance gameplay is crucial for rising the ranks of Season 13: Saviors. Starting with the in-game Controller Presets, players are recommended to use Evolved instead of Default. This layout might be slightly strange to some Apex Legends players, but the conveniences and benefits outweigh the Default settings.
With Evolved, Apex Legends controller users will be able to execute Jump and Aim simultaneously. Furthermore, this layout allows players to Crouch-Strafe while shooting their firearm simultaneously. Naturally, the Default layout will be the most familiar regarding its similarities with other FPS games' Controller Presets. Yet, Evolved combines actions very well and can potentially reduce the strain on one's wrist movements. Still, players might need some time to become accustomed to the present; therefore, practicing in the Training Arena before starting an actual match is recommended.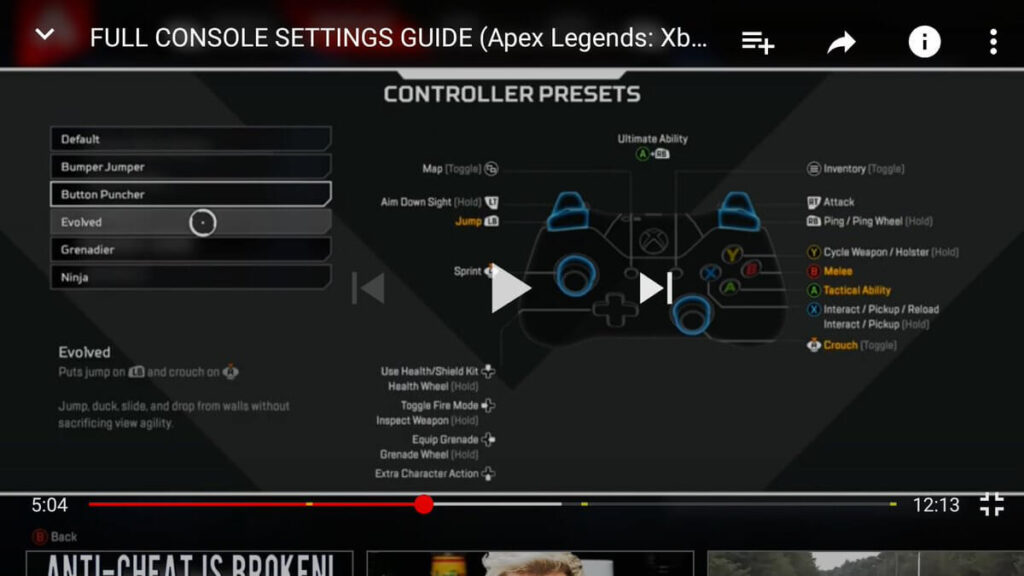 It should be noted that the "best" in-game controller settings for Apex Legends Season 13 are simply recommendations. The locations should not be seen as required for all players, as the options listed below are subjective and versatile. Consequently, Apex Legends players are encouraged to mix and match their preferences in settings to create the best personalized experience for their game.
Best controller settings in Apex Legends
While some tips will improve performance on the controller in Apex Legends, the best way to find the perfect build is through trial and error. These tips can help players pull off common strategies and improve their game.
Bumper Jumper
Apex Legends players must be able to aim while jumping, and it's far too important to give up. By rebinding the jump button to the front left bumper (R1 or Rb), players can mash their jump while keeping a thumb on the sticks.
Jumping while firing keeps the player harder to hit and makes a quick escape more plausible. Keeping the jump command on one of the face buttons is a largely untenable strategy.
Crouching and Aiming
Controller gamers will often face the opposite advice given to their keyboard and mouse. A perfect example is how controller players will need to handle crouching and aiming.
Crouch is best set to hold in keyboard situations, but controller players should use a switch. Again, it's all about keeping your thumb on the right stick so players can aim while crouched. With crouch toggle, they can also crouch while striving to make them harder to hit.
The aim, on the other hand, should be set to hold. Toggle aim works fine with a right mouse button, but controller players want to be aiming and off aiming as often as possible. Changing the field of view takes a little longer on the controller; putting the target on hold will compensate.
Advanced Look Controls
Apex Legends features a handful of settings that will be key to keeping controller players on par with their opponents. While most of the scenes in the ALC menu aren't necessary, a few are crucial. The biggest thing on this menu is the Yaw Speed. Turn this setup as much as it is tolerable. This setting controls how fast the player can look left and right. This needs to be very high to compensate for the instant response of mouse aiming.
Pitch Speed should also be pretty high, though closer to the middle than the previous stat. ADS Yaw and Pitch are dangerous settings that need to be adjusted with caution. Too much will make precision impossible, and not enough will render it too slow. Use trial and error in the game's Firing Range to dial in this acute setting.
Optimal Controller Settings For Apex Legends Season 13
Here are the best controller settings for Apex Legends in Season 13: Saviors:
Apex Legends General Controller Settings
Stick Layout: Default
Interact/Reload Button: Tap to Use and Reload
Crouch Button: Toggle
Aim Button: Hold
Survival Slot Button: Off
Trigger Dead zones: None
Menu Cursor Speed: 50
Apex Legends Movement / Aiming Settings
Look Sensitivity: Very High [5]
Look Sensitivity: Default [3]
Response Curve: Classic
Look Deadzone: None
Movement Deadzone: Small
Inverted Look: Off
Vibration: Off
Apex Legends Advanced Look Controls
Custom Look Controls: On
Deadzone: 2%
Outer Threshold: 1%
Response Curve: 7
Yaw Speed: 350
Pitch Speed: 350
Turning Extra Yaw: 0
Turning Extra Pitch: 0
Turning Ramp-up Time: 0%
Turning Ramp-up Delay in Apex Legends: 0%
ADS Yaw Speed: 130
ADS Pitch Speed: 100
ADS Turning Yaw: 0
ADS Turning Extra Pitch: 0
ADS Turning Ramp-up Time: 0%
ADS Turning Ramp-up Delay: 0%
A final detail worth mentioning is that the player's controller could also affect their aim and handling in Apex Legends Season 13. For example, a cheaper third-party-produced controller might require slightly different settings than authentic controllers officially manufactured by Xbox or PlayStation. Of course, it's not always possible to possess the best gaming equipment, but fans should bear such factors in mind while configuring their controller settings.