The LMG Bren has long been considered the best-ranged weapon in Call of Duty: Warzone – despite some nerfs and "fixes". The Warzone professional "IceManIsaac" has now presented a setup that should forget all previous weaknesses. On the lookout for the best Warzone Pacific loadout? The first mid-season update to Call of Duty's popular battle royale game is here, introducing a new weapon, new playlists, and most importantly, balance changes. There were a lot of small tweaks to the Vanguard weapons, though there was nothing, in particular, to drastically change the meta in a big way.
The Bren is one of the most famous weapons used by British and Commonwealth forces in World War II, and now you can use it in Call of Duty Warzone Pacific. Traditionally sporting a distinctive bipod and upward-facing magazine, this iconic machine gun packs a punch. In Warzone, it can be used to turn the tide of war in your favour with the right accessories.
What's going on in BREN Setup?
With the introduction of the new map Caldera, the Vanguard weapons took over the meta in Call of Duty: Warzone
Right at the front: the LMG Bren – but also because the weapon was a bit broken
After a few nerfs and repairs, the Bren is a bit weaker but still a powerful companion with the right setups.
Although, as always, plenty of LMGs struggled to find a foothold in the meta, with only one retaining a high pick-up rate, Bren. This heavy hit from the LMG might lack the mobility of some ARs and SMGs, but it certainly makes up for it in strength and is perfect for inflaming enemies in the Caldera.Of course, to get the most out of the weapon, you'll need to turn on meta loading, and luckily, we've got you covered.
CoD Warzone: Bren setup after the nerfs
Why is the Bren so strong? LMGs are slow behemoths with little mobility. The weapons have to offer something special so that they can convince. For example, the Bruen Mk9 from CoD MW. The weapon was very dominant in Warzone because it offered a mobile assault rifle magazine, long-range and low recoil.The Bren is such a case again. The damage is very great, the part can be controlled very well, and due to broken barrel attachments, the LMG had an "infinite" range for a long time – so it did not lose any damage at a distance.
What has been nerfed so far? Previously only the broken barrel attachments were fixed, and there was a buff to damaged limbs.
However, the significant base damage on the chest and abdomen has not suffered yet, and when it comes to controlling, the Bren is also an extremely strong and reliable option for range. This continues to make the LMG one of the best weapons in the game – and even the best-ranged weapon for those who don't mind limited mobility.Warzone pro "IceManIsaac" has taken the popular gun again after the nerfs and changes of the last few weeks and developed a new setup that, as he says, makes the weapon "better than ever".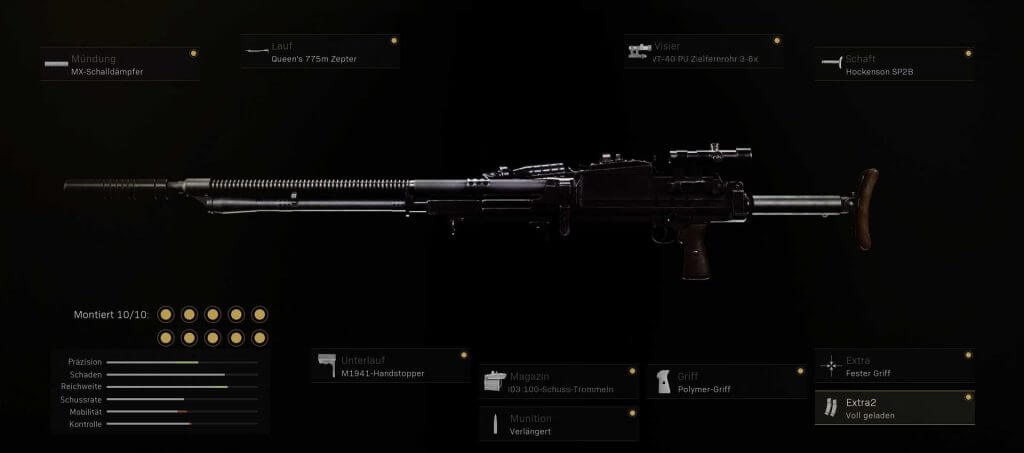 CoD Warzone: Bren Setup
Muzzle: mercury silencer
Barrel: Queen's 775mm Sceptre
Sight: SVT-40 PU scope 3-6x
Stock: Hockenson SP2B
Lower barrel: m1940 hand stopper
Magazine: .303 British 100-round drums
Ammo Type: Extended
Handle: Polymer handle
Skill: Firm Grip
Kit: Fully loaded
What makes the setup strong? You maximize the range and benefit from serious damage up to 45 meters.The time-to-kill is 600 milliseconds (250 life points) and then increases to 700 milliseconds. Strong stats for a ranged weapon on par with Cold War's AK-47. But it's not nearly as easy to control.
Compared to previous Bren meta setups, you also have a larger magazine that can be reloaded relatively quickly for 100 rounds. In addition, the vertical magazine no longer interferes with aiming.A disadvantage is the somewhat sluggish LMG mobility. Don't mind that; the Bren continues to rock as a ranged weapon.
Best Bren Warzone loadout
Attachments
Muzzle: MX Silencer
Barrel: Queen's 705mm Royal
Optic: SVT-40 PU Scope 3-6x
Stock: Queen's Model 11 BH
Underbarrel: m1941 Hand Stop
Magazine: 6.5 Sakura 40 Round Mags
Ammo Type: Lengthened
Rear Grip: Polymer Grip
Perk: Tight Grip
Perk2: Fully Loaded
First of all, you'll want to equip the MX Silencer and the Queen's 705mm Royal barrel to significantly increase the gun's bullet velocity and overall control. Not only that, the silencer keeps your gunfire off the radar, making it harder to pinpoint your position, which is key in Warzone.
After that, utilize the Queen's Model 11 BH, m1941 Hand Stop, and Polymer Grip to bolster the LMG's heavy recoil pattern and boost the gun's aiming stability, making it easy to beam enemies down from a distance. These attachments paired with the SVT-40 PU Scope 3-6x optic turn the Bren into a specialist long-range weapon that's a force to be reckoned with.
When it comes to bullets, be sure to run tall to maximize damage, plus 6.5 Sakura 40 Round Mags so you can take out multiple opponents without having to reload.
Finally, complete the loading with Fully Loaded so you'll never run short of ammo, as well as speed to make up for Bren's massive lack of mobility.
Best Bren Warzone class
Perks & Equipment
Perk 1: E.O.D.
Perk 2: Overkill
Perk 3: Amped
Lethal: Semtex
Tactical: Stim
When it comes to perks, our Bren setup runs the typical meta choice with E.O.D. to protect you from explosive damage, as well as Amped to make it easier to switch to your S.M.G. for close-quarter skirmishes. Next, you'll want to run Overkill with this class as the Bren may pack-a-punch at long-range, but you'll need your favourite S.M.G. alongside you for when opponents push your position.
We recommend the MP40 as it's currently the most popular S.M.G. in the game and tears down enemies at close quarters. If you'd prefer to run A.R. in the secondary slot, consider testing out the new Vargo 52, a devastating Cold War weapon that thrives at medium range. Finally, finish off the class with a Semtex to clear out enemies from cover and a Stim to boost health in the middle of a skirmish.
How to unlock the Bren in Warzone
While the Bren may be a strong pick in the current meta, you're going to have to work hard to get your hands on the weapon. To unlock the LMG, players to reach level 53 of the Battle Pass, which is just two levels off the maximum rank. Of course, this does mean there's no strange challenge to pick up the Bren, but it will take quite a few hours of grinding.