There are a lot of different characters in Brawl Stars, and players are always coming up with new methods and tactics to get better at the game. Not all of the characters in the game are as strong as the best ones, so it's important to promote them. If you don't want to do it yourself, we've made a list of Brawl Stars character levels that show off the best of more than 60 fighters. We put them into 6 groups, from S to F, so you can pick your best from the top group.
All Brawlers Tier List For Brawl Stars 2023
| | |
| --- | --- |
| Level | characters |
| S | Leon, Fang, Nita, Maisie, Hank, Bonnie, RT, Squeak, Buster, Jacky, Doug, Shelly |
| A | Tara, Eve, Sam, Mr. P, Ash, Frank, Pearl, 8-Bit, Bibi, Crow, Grom, Mandy, Bo, Jessie, Sandy, Griff, Otis, Gray, Rosa, Emz, Meg |
| b | Bull, Stu, Gene, Willow, Lola, Penny, Piper, Gus, Chester, Amber, Ruffs, Lou, Darryl, Brock, Bea, Carl, Spike, Poco, Pam, Sprout |
| C | Belle, Buzz, Gale, Nani, Colt, Rico, Surge, Edgar, Max, El Primo, Janet, Cordelius |
| D | Tick, Colette, Dynamics |
| F | Byron, Mortis, Barley |
Brawl Stars: Best Characters (2023)
Among all the brawlers mentioned above, it is also worth highlighting the best ones so that you know who you should choose for the match.
Leon
Leon is a famous character who does well on many maps and could be a good choice against many strong fighters. Because he does a lot of damage and has low strength, he can be hard to master. Leon's main move, which fires four blades, will be very useful at close and long range, and it will be especially good against tanks when they come close. This character's best ability is the "Smoke Bomb" ability, which hides him for 6 seconds or until he hits. With the Lingering Smoke gadget, you can become invisible for two seconds longer.
A Bonnie
Bonnie is one of the best Brawlers in Brawl Stars because she is great at everything, from speed and damage to health and flexibility. In Showdown, you can see how strong she really is, but she's always hard to beat in any other mode.
Squeak
Using Squeak is the safest way to keep other Brawlers from getting into certain places. This Brawler can be used as a tank and to take over places. Even though he doesn't do much damage, he's useful in games like Heist and Siege.
Fang
Fang is a chromatic brawler who impressed fans right away with how well he could attack and move. As this character's main attack, he kicks hard enough to do some damage. If it misses, the boot falls off his foot and flies a little farther, doing 25% more damage. It's also important to note that his super power, Sneak Ahead, lets you kill enemy teams that are close together. With this ability, Fang runs forward to attack the target. If he hits, he can jump back and hit other enemies more than once, dealing damage each time. One great choice is to use the Fresh Kicks tool. When you kill an enemy with this ability, it fully charges your Super.
RT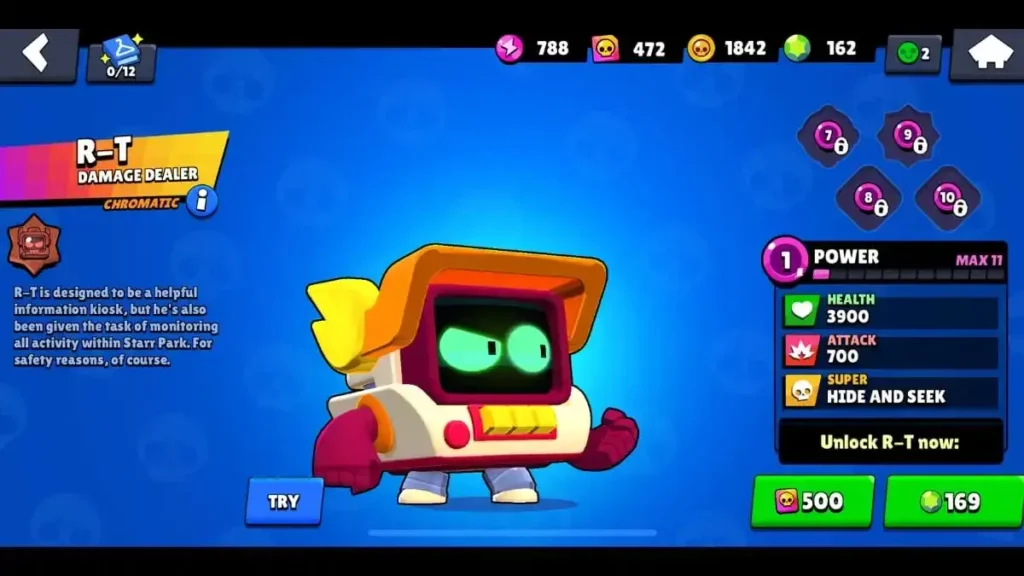 The last character in Brawl Stars is RT, who is also likely the best one right now. This is his main move, and it can mark the target and hurt them. It takes twice as much damage for him to hit the marked enemy after that. The best thing about this character is his super ability, which lets you split the robot in half and use both halves at the same time to hit close enemies with powerful AoE attacks. If you are in danger, you can press Super again to put the body back together and get 1000 health back. If you want to take less damage, the recording device is a good choice.