Animal Crossing Villager Complete Tier List (2022)
Animal Crossing is a top-rated franchise featuring multiple characters and villagers. The choice of villagers is a personal matter for everyone. But some are loved by society, and some are purely hated. The Animal Crossing franchise features over 300 villagers, each with a unique appearance and abilities. It is famous as an open game without specific goals. Players can roam around doing activities and playing mini-games. in this blog, we cover a complete tier list of animal crossing.
The Animal Crossing villager tier list (2022) is created by community voting and is the cumulative average ranking of 736 tier lists submitted. The Ultimate Animal Crossing Villager's best ratings are at the top of the list, and the worst ratings are at the bottom. While all 397 of Animal Crossing's villagers have their unique charm.
All villagers in Animal Crossing: New Horizons have their distinct personalities, charm, and appearance, but some of them stand out from the rest in the eyes of fans of the game, which has earned them S-Rank ratings in many players' lists. S-Rank, or Special Rank, is reserved for villagers who are the ultimate cream of the crop and often have unique design elements that set them apart with fascinating features that fans can't get enough of. Animal Crossing has an impressive array of characters that can become gamers' islanders, making it difficult for many to decide which ones have a rank S and which ones belong to the lower levels of either A or B.
Everyone has their favorites and underdogs in the game, and villagers who revere some like S-Rank don't like others. Animal Crossing allows players to interact and befriend 397 villagers, all with their traits and personalities. Players are encouraged to make friends with their favorites in this relaxing social simulation game. However, some villagers are undoubtedly charming and quickly gain tremendous popularity among Animal Crossing fans.
Animal Crossing villager tier list typically range from a coveted S to a fearsome D, ranking each villager based on attributes such as appearance, personality, house designs, and even a famous phrase. Each villager in Animal Crossing has a unique set of traits that players can love or hate during their time together as neighbors on the island, but it's hard for any villager to stand out enough to earn an S rank.
How Animal Crossing Villagers Were Ranked
There are several guides ranking villagers in Animal Crossing: New Horizons. However, a great deal of writer's bias is usually included in the list. While there is nothing wrong with writing reviews, this guide ranks villagers based on the added information. Did it take me many hours to create this guide? You bet. But to put this together, I collected information from several surveys, including (but not limited to) Animal Crossing Portal and GameWith. Also, I found some of the most popular and most recent Reddit posts on this topic and read the comments with the most upvotes. Finally, I spent a lot of time on Nokazone comparing the most expensive Animal Crossing villagers with survey results and Reddit posts. In short, there was a lot of note-taking, highlighting, copying, and pasting.
Some of the posts were newer than others, which meant that the new villagers weren't always around. Also, there was very little data to work with, especially when it came to the lower levels. However, this guide is perhaps as close as possible to a perfect list.
Animal Crossing Villager Complete Tier List
It would be impossible to arrange the villagers in exact order. After all, can we spot any noticeable differences between the villagers at rank 339 and 340? Therefore, the villagers were categorized into popularity levels. Within the levels, villagers appear in no particular order.
In this guide, most famous to most minor popular tiers descend from S, A, B, C, D, all the way down to E. A quick thank you to the Animal Crossing Fandom Wiki for providing me with each of these villagers' species and personality traits.
Without further ado, see how the 413 villagers in Animal Crossing: New Horizons rank, based on their popularity. Although Animal Crossing: New Horizons tier list only added eight new villagers to the series (fourteen if you count the new Sanrio villagers), the series is now shy of four hundred different villagers for players to befriend and join in. With a lot available in all different games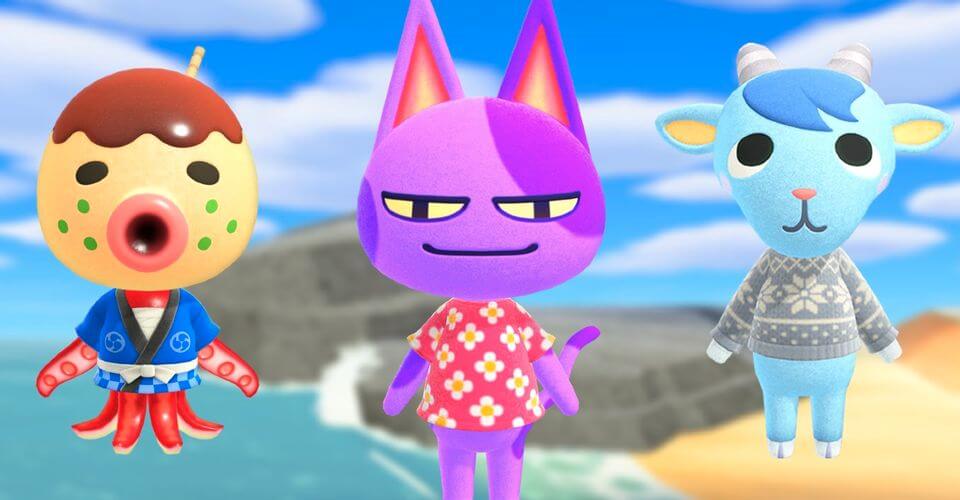 Animal Crossing Villagers S Tier
These are some of the most famous villagers since the series was launched. Newcomers like Raymond and Shark also became very popular after the release of Animal Crossing: New Horizons. Some are so cute that you can't resist them, while others bring a unique quality.
Ankha – The snooty, ancient Egyptian-themed cat villager.
Bob – The purple, lazy cat villager with half-closed eyes.
Lucky – Lucky is the opposite of lucky; this poor dog villager is always wrapped from head to toe in bandages.
Marshal – This smug squirrel has stolen everyone's hearts with his always blushing cheeks.
Merengue – Merengue is a normal rhino villager that looks like a strawberry short cake.
Raymond – This smug cat is all business, and his serious, business cat look has won over the whole internet. He is probably the most popular villager in all of ACNH.
Sherb – A blue ram whose main hobby is sleeping, and is one of the laziest villagers.
Stitches – One of only six villagers that is not actually an animal, Stitches is the lazy stuffed bear everyone wants.
Tia – Tia is the normal elephant villager that looks like a teapot.
Zucker – An octopus villager that looks like an octopus takoyaki ball, which is a popular snack in Japan.
The list of S-class villagers could mainly be considered the property of Animal Crossing. Some elite members have topped the popularity charts since the Animal Crossing series debuted. Still, newcomers to Animal Crossing: New Horizons like Raymond and Sherb immediately earned their place in the hearts of many players.
It's hard to say precisely what a villager would need to become part of a class S. Most of them come with a specific theme, such as the ankh in her Egyptian style, making her very well known amongst other cats. Others have clever designs like Zucker and Mering-based food-based. However, villagers like Bob and Marshall have captured fans with an almost indescribable kindness that has taken over social media for quite some time. To this day, these villagers are still highly sought after by players in Animal Crossing online circles. Any player considering giving up one of these things might want to think twice.
Ankha Is A Long-Time Favorite Animal Crossing
Ankha is one of the Animal Crossing: New Horizons villagers who consistently stay at the top of the ranking lists with their unique aesthetics and unique charm. Ancient Egypt inspires its design with stunning eyeliner and cobra crown, and its name refers to the ancient symbol of Ankh. Ankha never smiles, but her coolness and arrogant personality works in her favor for this pharaonic cat and endears many of her fans. Cats are some of the most popular villagers in the game, but Ankha stands above the rest during her reign.
Animal Crossing Horizons Tier A Villagers
Villagers: Apollo, Audie, Benjamin, Blanche, Boone, Camofrog, Cherry, Coco, Chrissy, Diana, Dobie, Dom, Drago, Erik, Epona, Fauna, Felyne, Francine, Frita, Ganon, Gaston, Genji, Hopper, Judy, Julia, Julian, Ketchup, Lily, Lobo, Margie, Marina, Marty, Mira, Molly, Pekoe, Phoebe, Poppy, Raddle, Ribbot, Roald, Rosie, Shep, Sly, Snake, Sprinkle, Sprocket, Tucker, Walt, Whitney, Wolf Link, Wolfgang, Woolio, Etoile
These villagers may not be as hard to find as the S-tier ones, but that doesn't mean players aren't willing to spend dozens of corner mile tickets (or real money) to have them as neighbors. Many of these villagers push the threshold of being in the S-tier category, but for whatever reason, they're missing that unidentifiable.
What a lot of these characters have (beyond their cuteness) is a story. Supposedly Audie, Animal Crossing: New Horizons' newest wolf villager, is a reference to Audrey Buchanan, an 88-year-old woman who put in more than three thousand hours in Animal Crossing: New Leaf. Benjamin, a canine villager, is called Hachi in the Japanese version of Animal Crossing. This villager is believed to have come in reference to the Hachiko Tale, a true story popular in Japan about a dog who waited faithfully for its owner at Shibuya Station for several years after his death.
A small handful of tier list A villagers are Animal Crossing co-op characters, tied exclusively to amiibo cards. While this makes characters like Marty and Wolf Link particularly rare, it limits the number of people they can pass on to those who manage to get them. Fans are already eagerly awaiting the release of Sanrio amiibo cards to clear some of the cute villagers they bond with.
Animal Crossing Tier B Villagers
Villagers: Alfonso, Alice, Amelia, Annalisa, Apple, Aurora, Avery, Bea, Beardo, Beau, Becky, Bianca, Bill, Billy, Biskit, Bones, Bud, Bunnie, Celia, Chadder, Chai, Chelsea, Cheri, Chief, Claude, Clay, Colton, Cousteau, Daisy, Deirdre, Dozer, Drift, Ellie, Eugene, Eunice, Fang, Felicity, Filly, Flora, Freya, Gala, Gayle, Goldie, Graham, Hamlet, Hans, Hopkins, Hornsby, Inkwell, Jacques, June, Kabuki, Ken, Kevin, Kid Cat, Kiki, Kyle, Leonardo, Leopold, Lolly, Lopez, Louie, Mac, Maddie, Maple, Marcel, Marcie, Medli, Melba, Merry, Mitzi, Murphy, O'Hare, Octavian, Papi, Pashmina, Phil, Pierce, Pietro, Pigleg, Piper, Portia, Puck, Punchy, Rasher, Renee, Robin, Rod, Rodeo, Rooney, Rory, Roscoe, Ruby, Rudy, Savannah, Shari, Simon, Skye, Spike, Static, Sterling, Sylvana, Tangy, Tank, Tasha, Tipper, Toby, Tom, Tutu, Twiggy, Vesta, Viche, Victoria, Vivian, Vladimir, Wade, Willow, Zell
If cuteness was the only deciding factor in what made Animal Crossing's villagers tier list, then almost all of them would be at an S Tier. Unfortunately, it takes a bit more than that, and that's about all those villagers he brings to the table. Characters like Daisy and Lolly are definitely cute villagers, but there's nothing that would drive them away from villagers of the same type as Goldie or Kiki.
Few of the villagers of this class shy away from the issues that made them unique in the first place. A villager like Kid Cat, for example, has a Power Rangers/Super Sentai-inspired design, but because his design includes his helmet, he is permanently attached to his head. This makes any non-default outfit look annoying, and any hat worn over his helmet can look just plain ridiculous. As much as these villagers enjoy themselves, many are specifically drawn to fans who are drawn to their theme.
Animal Crossing Tier list C Villagers
Class C villagers may look bad, but there's nothing particularly wrong with most of these villagers. However, at the same time, there is nothing noteworthy about them either. Most of the villagers in Animal Crossing are a bit unique and feel different colors from each other or look like a basic version of their real-life counterparts.
One unfortunate thing about the tier list C level is that it is the highest level many of the original Animal Crossing villagers can reach. Despite the long list of villagers in Animal Crossing today, a large number of characters never made it past the first game.
Not getting any transformations or shining as characters like Bob, Rosie, or Apollo, these villagers are left with nothing but plain old layouts mixed with house interiors that barely make sense. It would be great to see some of these villagers return one day in Animal Crossing: New Horizons with a new look.
Animal Crossing Tier list D Villagers
To many, these villagers are considered inferior. Players will go to great lengths to avoid having some of these characters in their cities, and usually end up falling victim to intentionally planted seeds or trapping bugs with net attacks.
These villagers are easy to excite by their rather ugly appearance or their upside-down house layouts. However, as with any of the villagers in the Animal Crossing series, there is still a potential opportunity for a great and lasting friendship.
Sherb's Sleepy Charm Earns Him S-Rank In Animal Crossing
Sherb is a sweet and sleepy boy who has earned S rank with his suave appearance and lazy type of personality, and wears a white winter jacket as his basic outfit that matches his gray striped horns. Between his rosy cheeks and wide eyes, Beber is without a doubt one of the best villagers ever added to the Animal Crossing series in New Horizons. Unlike most male goat farmers, he does not have a beard, which gives him a more boyish face and makes him more affectionate.
Lucky's Ironic Name Scores Him Animal Crossing S-Rank
This poor villager isn't so lucky, and perhaps it's Lucky's tongue-in-cheek name that keeps him at the top of the leaderboards. Lucky is completely wrapped in bandages, except for one glowing yellow eye that protrudes, and while he's not confirmed to be undead, his home in New Horizons is shaped like a graveyard, and he plays K.K. Dare to add to the bad feelings.
While some players may not appreciate Coco's fearsome aura, she has been a fan favorite of the franchise since her introduction in the original Animal Crossing due to her haunting and completely original design. Coco's appearance is based on the Japanese Haniwa figurines, ancient terracotta characters buried with the dead, which were also the inspiration for the franchise's thyroid disease and reflect Coco's idea of death in the game. Despite his hollow expression and piercing gaze of his, Coco's regular character lends him a gentle charm, putting this cute and fearsome rabbit at the top of many Villagers: Animal Crossing New Horizons tier list.