Details about what your PC needs to run "Alan Wake 2" have been released by Remedy Entertainment. The Remedy team finally put out the list of system requirements for PC players on Twitter. If you don't have a fully equipped game setup, it might be a little scary. Keep reading to find out everything. This list of PC system needs might help you decide which platform you want to buy Alan Wake 2 on out of all the ones that are available.
Alan Wake 2 system requirements
The game specifically needs DLSS3 or FSR2 upscaling technologies, which shows how hard it is on hardware. A GeForce RTX 2060 or Radeon RX 6600 is required for people who want to keep their system specs as low as possible. These cards handle 1080p resolution at low settings and guarantee a steady 30 FPS. With medium settings, players with high-end graphics cards like the RTX 3060/3070 or the RX 6600XT/6700XT can expect better frame rates or higher resolutions. For the Ultra settings, which are designed for 4K play at 60 frames per second, the game needs graphics cards like the RTX 4070 or RX 7800 XT, with the Performance profile for upscaling turned on.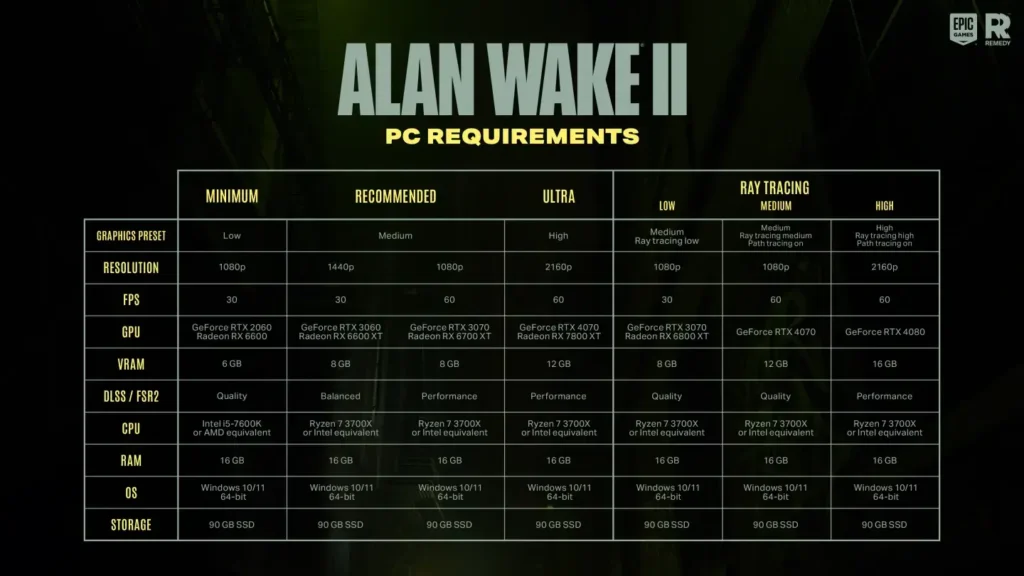 For aficionados keen on experiencing ray tracing at a consistent 60 FPS, graphics cards like the RTX 4070 or 4080 are advised. These GPUs can proficiently manage 1080p or 4K resolutions, ensuring a stable 60 FPS. It's imperative to acknowledge Remedy's insistence on activating DLSS or FSR Performance profiles when seeking 4K resolution with the RT High preset. "Alan Wake II" is set to launch on October 27, 2023, and will be compatible with PC, PlayStation 5, and Xbox Series X|S.
Alan Wake 2 size and release date?
We think that the Alan Wake 2 download for PC will take up 20GB of HDD or SSD room. Though the developers have yet to announce the official system requirements, the Alan Wake 2 release date looms with a launch day set for October 27, 2023.
Thanks for visiting BGN. Dive deeper into the gaming world with our latest articles, reviews, and exclusive content. Explore now at breakingamenews and unlock a world of gaming excitement!"